As a formal discipline, project management has been around since the 1950s, but its application to the unique requirements of IT is still growing and maturing. Our research indicates that over the past three years, IT shops have been relying more and more on professional project management. The number of organizations establishing Project Management Offices has been steadily increasing and experienced IT project managers are in demand.
This Research Byte is a summary of our full report, IT Project Manager Staffing Ratios and PMO Adoption Rates.
The reasons for this growth are varied: New technology adoption, regulatory compliance issues, outsourcing, and the ever-present mandate to do more with less all contribute to the need for professional project management. Perhaps the most pressing driver, though, is that many organizations have a poor record of bringing in IT projects on time and within budget. Worse yet, projects often fail to meet key requirements, and some projects never reach completion. As such, most IT managers today realize that project management is a critical element of the ability to deliver successful projects–and thus value–to the business.
In today's environment, the role of the IT project manager is critical. Although the PM generally is not responsible for the direct creation of project deliverables, such as system design, program code, or documentation, the project manager is the individual with primary responsibility for ensuring that these deliverables are completed according to plan. They are trained in methodologies and equipped with the tools to guide the project through its various stages, from building the initial business case to assessing the project's success at closure.
Project managers are in demand. Our annual survey of more than 200 IT organizations shows that PMs have risen from an average 3.0% of the IT staff in 2006 to 3.4% in 2008, during a period of relative growth in IT spending, as shown in Figure 1.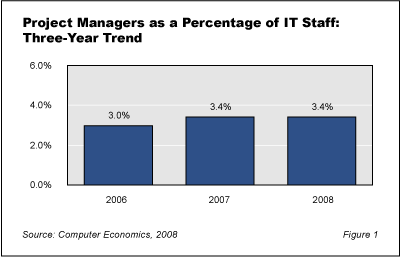 However, these average staffing ratios for the composite sample mask a wide variation in PM staffing. About 45% of the organizations in our 2008 sample have no dedicated project managers. In a few cases, this is because project managers report directly to a corporate project management office rather than to the IT department. In other cases, organizations are relying on IT managers to oversee projects or are outsourcing the function as needed. As we will see shortly, most of these organizations are small companies that may lack sufficient scale to employ project management specialists.
The full version of this report examines the question of how many project managers (PMs) a typical IT organization requires. We present staffing ratios by the total number of IT staff members, users, and developers to give managers three ways to benchmark their operations against organizations of similar size. The second part of this study examines current adoption trends for Project Management Offices (PMOs) and the potential impact on IT manager and PM staffing levels. We conclude with a discussion on how to measure the success of project managers and PMOs, as well as the key factors that lead to successful project management.
Computer Economics Viewpoint
While project managers do not come cheaply, they can pay dividends. For example, as this study shows, they can make managers within the IT organization more efficient. The real potential payback, though, is in their contribution to improving IT project success.
In the case of project management, success is defined by the success of the projects themselves. The full study provides analysis of metrics that can be used to measure project success in three categories: cost, schedule, and quality (or customer satisfaction) as well as success of the PMO itself. We also outline a number of best practices for successful IT project management.
Project management is one of the most challenging roles in the modern IT organization, but the potential payback for having well-training project managers on staff is considerable. The reality, though, is that too few organizations adequately staff this function. The good news is that project management is a well-defined discipline that is being successfully applied to the IT environment–the proof is in the improved success rates of the projects. All IT organizations need to adequately staff and measure the effectiveness of this function, and for organizations that are large enough, establishing a PMO is a solution worth considering. PMOs may not reduce costs, but they can impose best practice disciplines.
---
Lynn Drury, senior project manager at our sister management consulting firm, Strativa, contributed to this report. Drury is a Project Management Professional (PMP) certified by the Project Management Institute (PMI). She is also an instructor in project management at the University of California, Irvine.
This Research Byte is a brief overview of our report on this subject, IT Project Manager Staffing Ratios and PMO Adoption Rates. The full report is available at no charge for Computer Economics clients, or it may be purchased by non-clients directly from our website at https://avasant.com/report/it-project-manager-staffing-ratios-and-pmo-adoption-rates-2008/ (click for pricing).
Do you also need staffing ratios for other IT job functions? Consider this collection of all of our staffing ratio reports, which bundles them all into a single report at a significant discount: IT Staffing Ratios–Special Report Bundle.