According to our annual IT spending and staffing study of more than 200 organizations, the majority of IT organizations today are engaged in some stage of strategic planning. Figure 1 shows that 38% of organizations are fully practicing and 24% are partially practicing multiyear strategic planning. Another 9% are in the process of implementing their first strategic plan.

This Research Byte is a summary of our full report, IT Strategic Planning More Important Now than Ever.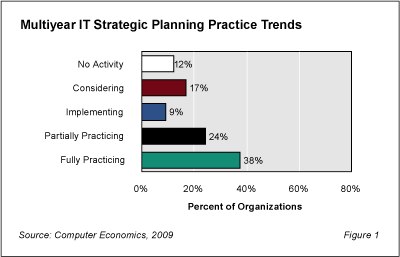 Significantly, 17% of organizations are considering investing in a multiyear strategic planning process, but have not yet made a decision to move forward. The fact that 17% are considering this best practice, while only 9% are implementing it, may indicate that some organizations are holding off because of the recession. Multiyear planning does not necessarily produce an immediate return on investment, a priority in the wake of the economic downturn.
The rise in the length of the bars in Figure 1 from "no activity" level of adoption to the "fully practicing" level otherwise shows that strategic planning is a fairly mature practice and one that is well-established in most organizations. Of course, these results do not reflect the quality of the strategic planning process, only indicating that such a process is in place.
The full version of this report provides data and analysis of practice trends broken down by organization size and business sector. In addition, it considers the reasons strategic planning is necessary especially in a struggling economy. It concludes by outlining five basic steps that companies should take relative to IT strategic planning, regardless of their stage of adoption of this best practice.
Multiyear IT strategic planning is a critical process regardless of the economic situation. The tendency of many companies during a recession is to reduce investments and maintain the status quo. If companies eliminate or reduce their IT strategic planning processes during the economic downturn, however, they are liable to make short-sighted cost-cutting decisions that have long-term consequences.
---
This Research Byte is a brief overview of our report on this subject, IT Strategic Planning More Important Now than Ever. The full report is available at no charge for Computer Economics clients, or it may be purchased by non-clients directly from our website. (Click for pricing).