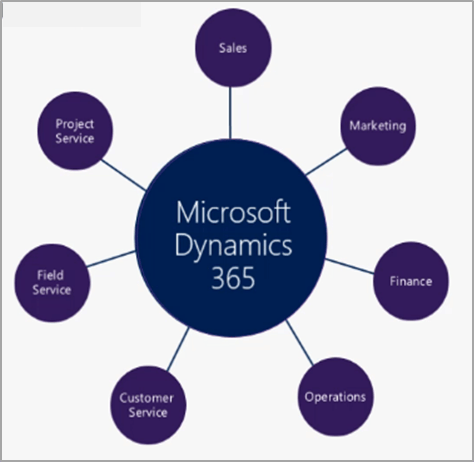 In a continuation of its software-integration mantra, Microsoft announced plans last week to combine its current CRM and ERP cloud services into an integrated cloud platform that leverages its Office 365 office suite. In addition, the software giant hopes third parties will build applications on the integrated cloud platform, dubbed Microsoft Dynamics 365.
The company also unveiled Microsoft AppSource – an app store where business users can kick the tires of apps from Microsoft and its partners. It's an overdue move, and it should allow Microsoft partners to add value to the offering while still allowing Microsoft to control the deployment environment. The AppSource will open with more than 200 apps, add-ins, and content packs.
Dynamics 365 will combine the company's CRM and ERP cloud solutions into one cloud service with new apps to help manage specific business functions, including: financials, field service, sales, operations, marketing, project service automation, and customer service.
Unifying While Also Disaggregating the Dynamics Products
Another significant part of Microsoft's announcement is its move to disaggregate the functionality of its existing apps, such as Dynamics AX, NAV, and CRM, and gradually move them to a common data model. On one hand, Dynamics 365 unifies ERP, CRM, operations, and other tasks, while at the same time disaggregating those solutions into more bite-sized pieces, according to Microsoft VP James Phillips.
"It's a two-step process here," Phillips told analysts this week. "We're breaking down the barriers and unifying across the whole company, but then making on-ramps available to our customers so that they can get started with individual business processes without requiring forklift upgrades of their CRM and ERP systems, while at the same time getting more incremental value … as they add more services from Dynamics 365."
Microsoft is trying to be pragmatic as it heads toward the unification of data, Phillips explained. The goal is thus: From a user's perspective, they get access to a converged and common set of entities. For example, if a customer is using Dynamics 365 for sales, and also using Dynamics 365 Financials (formerly Project Madeira), all of the data in those systems will be surfaced – both in those applications but also in a common data model. This allows customers to build composite applications that span those two systems. As Microsoft begins to disaggregate these suites of solutions into individually adoptable services, Microsoft will migrate those onto the new common data model.
Cortana, Power BI baked in
Combining Dynamics with Office 365 is a complex task with many elements, but a successful integration would take advantage of Microsoft's strengths in marrying the businesses processes embodied in its Dynamics products with its top-selling office productivity suite. The integrated platform will also leverage applications that Microsoft has pushed during the past few years — Power BI data visualization and Cortana intelligence. They will be natively embedded to give users predictive insights, prescriptive advice, and actionable next steps.
For instance, Cortana will enable cross-sell recommendations to help sales reps predict which products and services a customer needs. Access to Internet of Things (IoT) data inside Dynamics 365 for Field Service will enable preemptive action from agents in the field by connecting asset monitoring and anomaly detection so they can take action before failures occur.
Some of the more intriguing apps already in the AppSource store include:
AvePoint "Citizen Services" – Government organizations can automate incident reporting, response, and resolution, so employees can solve issues faster for residents. Neighborhood problems that can be reported included potholes and downed power lines.

AFS "Retail Execution" – An end-to-end solution for consumer packaged goods manufacturers to use as they engage with their customers in the field, covering merchandising, sales, asset management, and audit as well as a full suite of BI and analytics.
Staying Relevant for Customers and Partners
Dynamics 365 is yet another step in Microsoft's strategy of one seamless experience. By integrating Dynamics, Office 365, Cortana, Power BI, and other services, the idea of standardizing on Microsoft technologies becomes more attractive to customers. At the same time, with AppSource, Microsoft is making it easier for partners to sell into and add value to that customer base. Conversely, under CEO Satya Nadella's leadership, Microsoft has shown that it is ready to live in a heterogeneous world. Its support for Apple's IOS and Android as mobile platforms is one example. Its support for Oracle and Linux on Azure is another.
The upgrade path for existing customers of Microsoft Dynamics should become clearer in the coming months. Although not abandoning those customers that choose to continue with on-premises deployments, Microsoft is making it clear that the future of these applications is in its Azure cloud. Customers looking to upgrade to newer versions, therefore, may find themselves considering whether to convert from their existing license model to a subscription.
For partners, Dynamics 365 is just another step in Microsoft's strategy to push them to a higher value add. Although there will always be a need for partners that simply deliver implementation and training, the most successful partners will be those that focus on specific industries and deliver complementary solutions though AppSource. The app store might be the most overlooked aspect of this announcement, as it will allow Microsoft to tap into innovation from smaller, more targeted partners and keep Dynamics 365 relevant to a broader customer base. Microsoft remains committed to its partner delivery model, but partners will need to up their game if they want to win.