Our research shows organizations are having a highly positive economic experience with storage virtualization, nearly as positive as with server virtualization, and that this technology is becoming increasingly ubiquitous, particularly as businesses struggle to find new ways to manage fast-growing data storage requirements.
This Research Byte is a summary of our full report, Storage Virtualization Adoption Trend and Economic Experience.
Figure 1 shows that 42% of organizations have storage virtualization in place, up from just 30% in 2007. The percentage of organizations currently investing in storage virtualization is also up significantly over the period, rising from 30% to 45%.
The recession, however, may be putting a damper on current investment this year, as indicated by the 5-point decline from 2008, but the investment rate still rivals the adoption rate. That means about as many organizations are investing in storage virtualization projects this year as have the technology in place, a sign that this market is far from mature.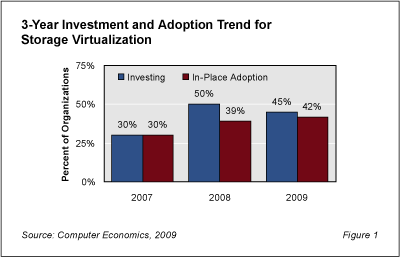 The full version of this report first examines storage virtualization adoption trends, providing data on how many organizations have the technology in place, how many are in the process of implementing it, and how many are expanding implementations.
To give additional insight, we look at the economic experience of those that have adopted virtualized storage. We examine return on investment (ROI) experience in terms of the percentage of organizations that report positive and break-even ROI within a two-year period. We also balance the potential ROI against the risks, measured in terms of the percentage of organizations that exceed budgets for total cost of ownership (TCO). We conclude with key considerations for IT organizations considering the technology.
The study, based on a survey of more than 200 IT organizations, also finds there is a great divide among IT organizations: while many organizations are expanding their storage virtualization implementations, with good results, another sizable group remains stalled in the researching and piloting stage, considering whether they should proceed with full-scale adoption.
---
This Research Byte is a brief overview of our report on this subject, Storage Virtualization Adoption Trend and Economic Experience. The full report is available at no charge for Computer Economics clients, or it may be purchased by non-clients directly from our website (click for pricing).