Human capital management (HCM) systems are becoming increasingly popular, but, like most complex business systems, they can be a challenge to implement. Integrating HCM with other back-office systems can be a headache, and total cost of ownership (TCO) can exceed budget. Because of this, HCM systems earn only a moderate satisfaction rating, compared to other technologies in our annual Technology Trends survey.
Figure 1 from our full report, HCM Adoption Trends and Customer Experience, shows that HCM systems are popular, with one of the highest adoption rates in our survey. However, four other metrics—investment, ROI, TCO, and satisfaction¬—are stuck in moderate. HCM vendors continue to expand their offerings, but there is ample room for improvement.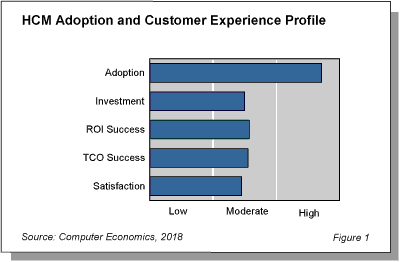 Modern HCM systems are comprehensive in nature. They not only serve as the system of record for employees but also sometimes extend to management of the contingency workforce, including contractors, temps, and personnel managed by outside service providers. In addition, HCM systems manage processes through the entire personnel life cycle, beginning with recruiting of prospective employees and contractors through termination and post-termination record-keeping. Finally, HCM systems often include record-keeping for retirees and others who receive HR benefits from the organization.
While the benefits of HCM systems are relatively easy to comprehend, there are several major challenges in deploying them. As previously mentioned, integration with other back-office systems can be difficult. Adopting HCM systems from the same vendor as the organization's enterprise resource planning (ERP) system can facilitate integration, but the best HCM solutions often come from best-of-breed providers. For example, in a high growth organization, a best-of-breed recruiting system may be a much better choice than the standard applicant tracking module of an integrated suite.
"There's probably no category of enterprise software with as many niche products as HCM," said Tom Dunlap, director of research at Irvine, Calif.-based Computer Economics. "Some of these can fill a critical need. But if you're not careful, you can end up with a hodgepodge of point solutions. You have to balance the quality of the solution against the need for integration."
This increase in adoption despite mediocre satisfaction ratings highlights another issue: the benefits of HCM are often difficult to quantify. Human resource goals such as increasing worker satisfaction or the level of new applicants can be rather intangible. Nevertheless, these days it is difficult to imagine that an organization can be committed to recruiting, developing, and retaining the best people without making a significant investment in HCM systems.
The full report quantifies the current adoption and investment trends for HCM technology, as well as the benefits driving companies to expand their HCM implementations. We assess these trends by organization size, sector, and geography and look at the ROI and TCO experiences of organizations that have adopted HCM. We conclude with practical advice for those planning new investments in HCM.
---
This Research Byte is a brief overview of our management advisory on this subject, HCM Adoption Trends and Customer Experience. The full report is available at no charge for Computer Economics clients, or it may be purchased by non-clients directly from our website (click for pricing).