Software-defined networking ranks No. 1 among the top five best technology investments for 2016, based on the annual Computer Economics Technology Trends study.
The study polled IT organizations on their experiences with 12 leading technologies and ranked them based on their overall risk-reward profile. This year, software-defined networking, while one of the most immature technologies in the study, exhibited outstanding customer experience.
The early adopters give this technology the highest marks of any technology in the study for their experiences with its return-on-investment (ROI) and total-cost-of-ownership (TCO), as shown in Figure 2 from the study, Technology Trends 2016.
"As it becomes more widely adopted, our customer experience ratings will likely decline," said Frank Scavo, president of Computer Economics, an IT research firm based in Irvine, Calif. "Nevertheless, this is one technology that all IT organizations should be examining closely given the feedback we received from adopters."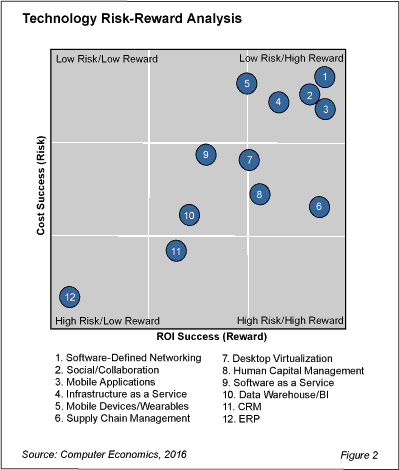 In the simplest terms, software-defined networking abstracts all of the higher-level control functions from the hardware, which is left with basic task of reading packets and forwarding them along their way based on rules provided by the software. In theory, this enables administrators to control the network without having to physically touch a switch or router. Proponents say it makes the network easier to manage, automate, and reconfigure. As with server and storage virtualization, it reduces the hardware to commodity status, promotes open standards, enables custom applications, and lowers network management costs. It may or may not improve security. That debate is still proceeding.
Other technologies that scored highly in custom experience include social business/collaboration solutions, mobile applications, infrastructure as a service, and moble devices/wearables. All of these technologies fall into the low-risk, high-reward sector of the scatter chart, which displays the results of our risk-reward analysis.
This analysis defines reward in terms of the number of adopters that break even or obtain positive ROI on their investment, which we call the ROI success rate. We evaluate risk in terms of the percentage of adopters that came in at or at less than budget for total cost of ownership (TCO), which we call cost success. Figure 2 ranks each technology by ROI success versus cost success. Technology initiatives with higher combined success rates are positioned closer to the upper-right-hand corner.
Each initiative falls into one of nine sectors, representing low, moderate, or high reward, and low, moderate, or high risk. In addition to the five technologies that fell into the top sector, the other technologies in the study ranked as follows:
Moderate Risk/High Reward: Supply chain management (6), desktop virtualization (7), and human capital management (8) are the three technologies that fall into this sector. With these technologies, cost is not always predictable and feature creep is common. Nevertheless, investors are finding these solutions worth the risk.

Moderate Risk/Moderate Reward: Technologies in this sector carry some uncertainty in cost, but the risk is not out of the ordinary. While SaaS (9) and data warehouse/BI solutions (10) can exceed budget, the percentage of adopters obtaining positive ROI is relatively typical for technology implementations.

High Risk/Moderate Reward: CRM (11) plays a critical role in organizations, but implementation and maintenance costs can be difficult to predict.

High Risk/Low Reward: The sole technology in this sector, ERP (12), has a poor customer experience track record, and consistently so, but that has not prevented companies from investing in their ERP systems. Because these systems are an essential part of the application portfolio of most organizations, the high-risk/low-reward nature does not mean organizations should not invest in ERP. Rather, it means that they should focus more on mitigating the risks.
The full study is designed to give business leaders insight into the staying power of 12 technology initiatives that are currently top of mind for many companies. It provides a glimpse into how quickly an emerging technology is being adopted, how deeply more-established technologies are penetrating the market, and how positive the customer experience is with each technology.
The study also delves into the specific types of solutions under consideration. By understanding the adoption trends, investment activity, and customer experience, business leaders are in a better position to assess the potential risks and rewards of investing in each of these technology initiatives. They also can gain insight into just how aggressively competitors and peers are investing in these initiatives.
Sample pages are available for free download.
---
This Research Byte is a brief overview of our study, Technology Trends 2016. The full report is available at no charge for Computer Economics clients, or it may be purchased by non-clients directly from our website (click for pricing).