Healthcare providers are increasingly investing in telehealth as it facilitates remote patient monitoring (RPM), enables wellness management, and reduces dependency on staff. They are not only offering a convenient and cost-effective care delivery model but also generating revenue by treating patients across different geographies. However, there are some challenges such as compliance, high dependency and investment in technology, and data integration.
These emerging trends are covered in Avasant's Healthcare Provider Digital Services 2022–2023 RadarView™. The report is a comprehensive study of digital service providers, including top trends, analysis, and recommendations, and it takes a close look at the leaders, innovators, disruptors, and challengers in this market.
Avasant evaluated 47 providers using three dimensions: practice maturity, partner ecosystem, and investments and innovation. Of the 47 providers, we recognized 20 that brought the most value to the market during the past 12 months.
The report recognizes service providers in four categories:
Leaders: Accenture, Cognizant, HCL, Optum, and Wipro
Innovators: Atos, Infinite Computer Solutions, Infosys, NTT DATA, and TCS
Disruptors: Capgemini, Firstsource, IBM, Mindtree, Tech Mahindra, and UST
Challengers: Hexaware, Kyndryl, Persistent Systems, and Virtusa
Figure 1 below from the full report illustrates these categories: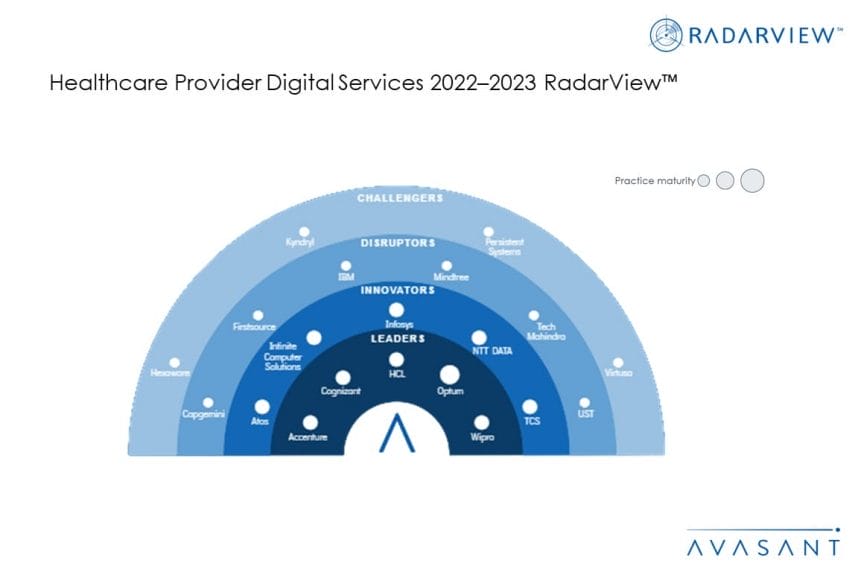 "Since the pandemic, healthcare providers are transforming rapidly," said Nishant Verma, Avasant partner. "Evolving patient expectations, disruptions in delivery of care, and staff shortages have encouraged providers to invest heavily in telehealth, RPM, and home-based care."
The full report provides a number of findings and recommendations, including the following: Expand focus on a hybrid model of care to increase patient outreach.

Redesign the physical care model to streamline the initial processes of patient screening and enrollment, answering queries, and providing guidance to physicians.
Build a strong virtual care model by investing in telehealth, RPM, data security, and home-based care using cloud, Internet of Medical Things (IoMT), artificial intelligence (AI), cybersecurity, and analytics.
Reimagine patient experience by developing a digital front door strategy.

Digitalize the patient journey by leveraging predictive analytics for preventive care and intelligent automation (IA) for autofilling applications for claims and sending personalized communication for wellness management.
Invest in or partner with digitally specialized companies to augment the virtual care delivery model, provide home-based care services, and monitor patients remotely.
Prioritize investments in IA, AI, IoMT, and analytics to manage financial pressure and improve care quality.

Leverage IA and AI to streamline the revenue cycle management process by optimizing clinical workflows, managing the supply chain, reducing claim denial rates, and expediting claim approvals.
Accelerate proliferation of IoMT devices to reduce readmission costs, facilitate remote monitoring for preventive interventions, and enable home-based care services.
"Healthcare providers have accelerated their transformation journeys to offer varied care delivery models, reduce costs, and improve patient outcomes," said Pooja Chopra, research leader with Avasant. "Developing partnerships with service providers can assist businesses in their transformation journeys and also enable smoother transitions."
The full report also features detailed RadarView profiles of 20 service providers, along with their solutions, offerings, and experience in assisting healthcare providers in digital transformation.
---
This Research Byte is a brief overview of the Avasant's Healthcare Provider Digital Services 2022–2023 RadarView™ (click for pricing).
---