A year ago, IT executives were looking to the future with concern because of the looming sovereign-debt crisis in Europe, a factor that was impacting their budget forecasts. The uncertainty caused many companies to tighten IT spending and investment. As it turned out, the IT budget forecasts for 2012, while mostly on the mark for operational spending, proved conservative for IT capital spending.
As the U.S. economy picked up steam with firming housing prices, rising auto sales, and more buoyant consumer spending, smaller companies with less exposure to global markets increased capital spending and exceeded budget projections. Our annual study, Outlook for IT Spending and Staffing in 2013, finds that heading into the fourth quarter, many IT organizations in North America were taking decidedly bullish actions. Small enterprises, in particular, led the way in increasing IT capital spending, launching major projects, and at long last hiring IT workers, as shown in Figure 6 from the study.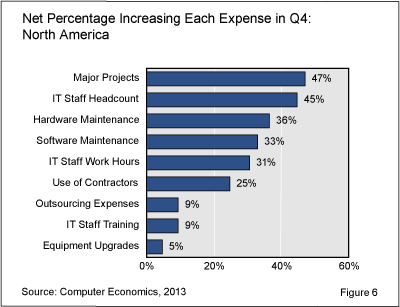 But as IT organizations turn to the year ahead, their forecasts for IT operational and capital spending suddenly turn cautious, if not entirely bearish. In the United States, the fiscal cliff has eclipsed the sovereign debt issue as the crisis of the hour. The pessimism is not all about the fiscal cliff, however. In fact, perceived weakness in the global economy seems the most critical factor. An IT planning director for one large manufacturing firm wrote: "We are in a very uncertain business environment, which is reflected in a very cautious company and IT outlook for 2013. The U.S. budget, European debt, and China leadership changes are all possible negative forces on our business and IT outlook."
The result is that as IT budget planners look to the year ahead, they are expecting growth in IT operational budgets close to what occurred in the previous year, about 2.5%, while IT capital investments plans are flat and IT hiring plans are on hold.
Until a clearer picture of the economy emerges, large enterprises are preparing for a slow-growth environment. Large manufacturers are being joined by government, education, and non-profit organizations, all of which are anticipating another year of flat or declining revenue. On the upside, some sectors and regions are budgeting for improvements. In North America, small enterprises plan to boost spending on IT capital spending about 5%. Organizations in banking and finance are investing in IT almost because of the uncertainty. Real estate is another bright spot. "The outlook in the real estate sector is positive over the next couple years, and the company's willingness and commitment to invest in new areas of technology is strong," said the vice president of IT for a U.S. home builder.
Our forecast also shows that organizations based in Asia-Pacific are anticipating IT spending growth that is far above expectations elsewhere on the globe. Meanwhile, the IT budget outlook in Europe, the Middle East, and Africa (EMEA) looks much like that in North America. While restrained, the forecast seems to call for more of the same rather than a deepening economic crisis. If the U.S. avoids slipping back into recession, IT capital investment and hiring should exceed our forecast, which is based on the budget plans currently being implemented by IT organizations around the globe.
The full study provides guidance for IT executives as they firm up spending plans for the coming year. It is also useful for IT product and service providers in forecasting economic trends for IT spending for 2013. The report is based on our fourth-quarter in-depth survey of 162 organizations worldwide, including about 86 IT organizations in North America. The study assesses the spending and staffing actions IT managers are currently taking, the budget actions they took over the past year, and what they are including in their budget plans for the year ahead. Our outlook report provides 2013 forecasts for IT operational spending, IT capital spending, and IT hiring by organization size. We also forecast pay raises for IT workers.