The growth of mobile applications, analytics, and e-commerce demands are increasing the front- and back-end requirements for the web/e-commerce support staff function. So while some IT staff functions lately have been declining as a percentage of the total IT staff, the need for technically savvy web/e-commerce support personnel is expanding.
As seen in Figure 1 from the full report, Web/E-Commerce Staffing Ratios, the percentage of the IT staff dedicated to web and e-commerce development and operations rose to 4.0% at the median in 2016, up from 2.8% the prior year.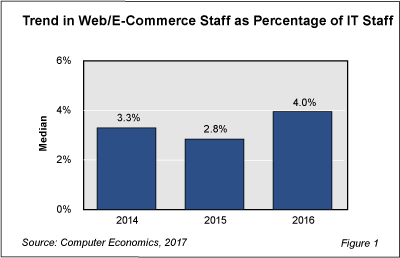 The web/e-commerce support function is difficult to benchmark because sector, strategic need, and other factors influence staffing needs. It is safe to say, however, that the need and strategic value of the function is increasing, a trend that we expect to continue.
Our definition of web/e-commerce staff includes personnel who are responsible for the creation and maintenance of websites, intranets, and e-commerce systems. We also include personnel who manage EDI systems. Typical job titles in this category include webmaster, web designer, web administrator, web programmer, web developer, Internet specialist, and EDI specialist. We use the terms "web staff" and "web/e-commerce staff" interchangeably. We have a separate staffing category for personnel supporting communications and messaging systems.
The size of web systems operations varies widely, depending on an organization's need for e-commerce and online customer service. For CIOs to calibrate their staffing requirements, we provide benchmarks for staffing functions related to web and e-commerce development and operations. We benchmark web/e-commerce staffing with two ratios: web/e-commerce staff as a percentage of the IT staff and users per web/e-commerce staff member. Finally, we examine the influence of sector on web/e-commerce staffing.
---
This Research Byte is a brief overview of our report on this subject, Web/E-Commerce Staffing Ratios. The full report is available at no charge for Computer Economics clients, or it may be purchased by non-clients directly from our website (click for pricing).
Do you also need staffing ratios for other IT job functions? Consider this collection of all of our staffing ratio reports, which bundles them all into a single report at a significant discount: IT Staffing Ratios–Special Report Bundle.