For many IT workers, the year ahead will begin to feel like recovery. After two years of belt-tightening, IT organizations have are finally increasing work hours, hiring contractors, and launching new projects. As the year progresses, about half of all IT organizations plan to expand IT headcount. Web developers and business intelligence personnel should be at the front of the line, while network administration and support personnel will not be far behind.
While the environment will be a significant improvement over the past two years for all concerned, IT organizations are not about to find themselves in stiff competition for IT skills. Not just yet. Capital spending remains constrained, dampening demand for development skills. IT workers in the data center as well as those on the help desk, despite rising call volumes, will find the environment remains difficult.
According to our study of IT salaries as reported in the Computer Economics 2011 IT Salary Report, the typical IT worker this year will receive a 2.3% boost in pay (Figure 1). However, we do not anticipate median salary levels for most functions to climb much, if at all, over 2010 levels. High unemployment rates in general and continued pressure to restrain hiring will mean labor for many IT functions will remain in ample supply.
This estimate is in line with projections for tepid but nevertheless welcomed growth in IT jobs and operational spending. In an earlier study, we projected the median growth in IT operational budgets will would be about 2% in 2011. As personnel makes up about half of IT operational spending, the projection aligns with anticipated salary increases.
In general, the raises are benefiting IT workers in areas where demand is higher. Web support staff, including programmers, designers, and administrators, are receiving slightly higher raises at 2.6% at the median than most other groups (Figure 2). This reflects the renewed emphasis on developing web-based systems to enhance e-commerce, customer support, and marketing capabilities.
Also rising to the top of the list are database administrators, data warehouse support staff, business analysts, and network administrators, which are receiving raises of 2.5% at the median. Business intelligence and data warehousing remains an area of focus for many enterprises, while network infrastructure is getting renewed attention. The ranks of business analysts have been growing steadily over several years. Meanwhile, application developers at 2.4% and IT managers at 2.3%, two groups frequently the first to receive raises, are lagging slightly behind the top tier this year.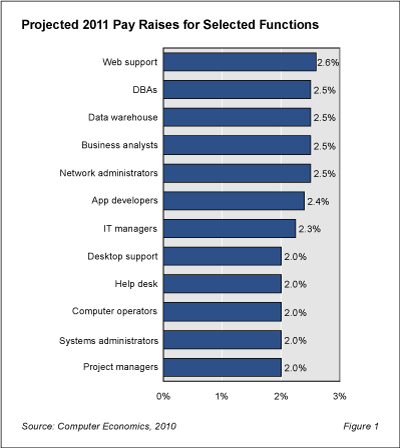 At the lower end, technical service personnel providing help desk and desktop support trail higher-paid technical staff, receiving 2% raises at the median. They are joined by computer operators and systems administrators as server virtualization, data center automation, and other trends produce productivity gains among server support staff. Project management, which has been an in-demand category, currently appears to be suffering from the slowdown in capital spending.
Keep in mind, however, that pay raises this year are minimal, and the differences between the highest and lowest positions are small. IT organizations are providing raises selectively. In our 2011 IT Salary Report, we project total salary (base pay plus incentive pay) for 65 IT job titles in up to 397 U.S. metropolitan areas. The salary tables are in Excel format while the executive summary is in PDF format.
---
This Research Byte is a short extract from the executive summary of the Computer Economics 2011 IT Salary Report. The complete executive summary is available for free download in PDF format. The salary tables are in Excel format and are available at no charge for Computer Economics clients or may be purchased directly from our website (click for pricing).