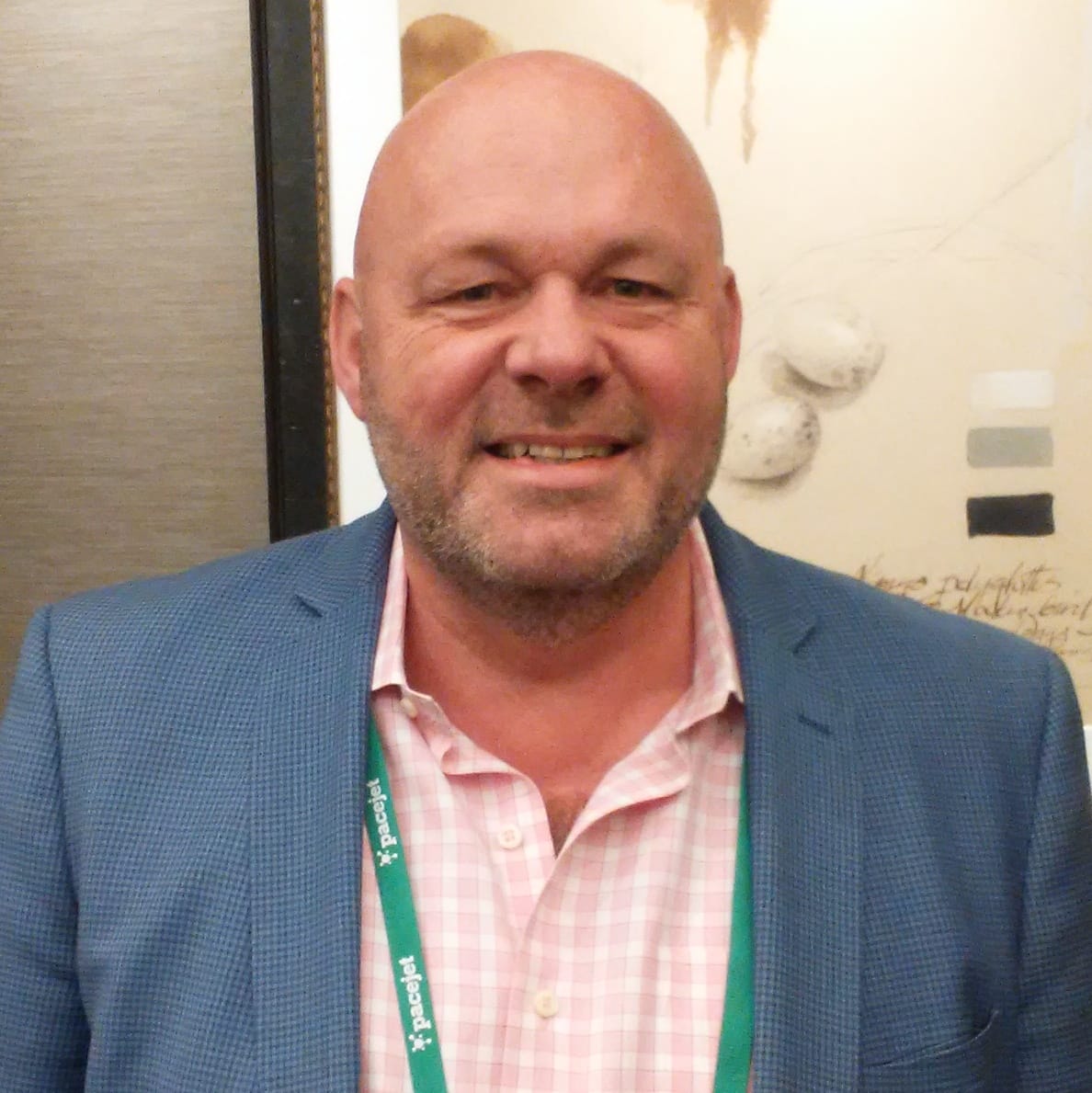 The implementation of any complex, enterprise-wide system can be fraught with difficulties. Installations can take more than a year and, in some cases, never work as advertised.
So it was encouraging to hear about a company of 3,700 workers and 134 locations implementing a suite of financial modules in less than three months.
That was the case at BLD Brands, where the new CEO, his team, and a value-added reseller (VAR) accomplished that task in a remarkable two months and 11 days in 2017, when they implemented the ERP financial system from Acumatica.
At Acumatica's recent customer conference, Andy Gale (pictured), the CEO and CFO of BLD Brands, a large restaurant management group, told us the story of how he and his team did it. (For more on Acumatica, see Acumatica Continues Expansion of Industry-Specific ERP.)
BLD Brands is the result of many acquisitions and includes 134 restaurants in 10 states. It includes three major brands, including one that is a large franchisee of two well-known restaurants, Papa John's and Hardee's. The firm also has its own brand, Spaghetti Warehouse. BLD Brands is headquartered in Newport Beach, Calif.
Gale, 58, joined BLD Brands in 2017. The experienced CEO has an extensive background in manufacturing and has installed 11 ERP systems at his former companies. BLD's search for a new ERP system was prompted by its inability to go through with a new acquisition due to limitations of its existing systems landscape, Gale said:
"About 15 months ago, BLD Brands was in discussions to purchase another large restaurant group, with about 100 locations. It was going to double the business in terms of revenue. And literally, days before the closing, the founder of our company backed out of the deal. There were a couple of reasons, but one of the top three reasons was he realized we did not have the solid infrastructure within the organization that would have supported bringing on an acquisition of that size."
'Couldn't Have Made It More Complex if You Tried'
Gale did not yet work for BLD Brands at the time, but he knew the founder through a CEO group. While in the group, Gale had been advising the founder.
"Looking in from the outside, one of the things that I discovered is that the company was running on an old, unsupported version of Sage Pro. Because of the acquisitions, BLD Brands was running on eight different charts of accounts and four different accounting calendars. You probably couldn't have made it more complex if you tried.
"I told him early on that we need to get on a modern system. And we need to harmonize all this stuff and get everything cleaned up so that we take away a lot of the complexity of the business. Because we're continuing discussions to acquire other businesses, we just want to make sure that we're keeping that backroom function relatively flat and not having to just continue to balloon the headquarters staff."
Gale had gone through many implementations in his previous jobs, including installations of Infor SyteLine, Infor VISUAL, SAP, JobBOSS, Jobscope, and, going way back, ASK Manman. At his new job, Gale saw an opportunity for a broader ERP footprint:
"In all those other implementations, the needs of manufacturing were really the driving force, and then you kind of got whatever financials you got. So, now this is the first time of really looking at it and saying, 'Hey, I wonder what it would look like getting world-class financials.' And then also knowing that in the restaurant industry, it's very technology driven, especially when you get to our size. So, we wanted to find a foundational platform with the ERP system at the heart of it that would be a good, solid package."
'Getting Back to Par'
Gale evaluated several ERP systems at BLD Brands. In addition to Seattle-based Acumatica, he considered NetSuite, Microsoft Dynamics NAV, and Intacct. The initial implementation started in the summer of 2017 and went live with the first phase in less than three months—a remarkable achievement.
"We started July 15th and we went live September 26th. And you always have to define, what does implementation mean? For us, implementation meant basically getting back to par. Meaning that we wanted to make sure we didn't lose any functionality in the process. So we wanted to be able to have our financials up and running. We want to be able to do all of our normal AP. Kind of the routine stuff. Be able to generate financial statements and kind of what I would consider to be relatively basic financial stuff."
It was definitely an all-hands-to-the-pump effort. Gale asked his major team members to work long hours and hired a few temps to assist in data input. He also brought in his former IT manager to assist on the project. The two have worked together a total of 22 years, have done five ERP implementations together, and are "very familiar with each other's expectations," he said. The IT manager has since been hired by Premier Computing, the Acumatica VAR that helped with the project. Gale and the IT manager ran the evaluation and selection process.
"I mapped all the old account structures to the new map before starting the implementation. He converted the historical GL data to the new map once we started the implementation process. Most of the project consisted of setting up the accounts, subaccounts, and intercompany structure with a lot of guidance from the VAR. We also harmonized eight different vendor masters into one, which was a major manual process with nearly 3,000 vendors."
Getting the data cleaned up for the new system was a challenge. BLD Brands came into existence through acquisitions, which resulted in siloed data.
"We did prep work on our own end. Because we were going from eight charts of accounts to one, and four accounting calendars to one, we actually took 10-years worth of financial history and mapped it outside of Acumatica so that we brought it into Acumatica clean. That was a lot of work."
Asked how the speed of this implementation ranked with the others he's done, Gale said this was the fastest. "All of my previous projects involved manufacturing modules which required more setup," he said. Previously, his fastest implementation was four months. The BLD project is quite an achievement, considering that Gale has given access to the system to all 134 store managers and another 30-plus field-based managers.
Focus on the Implementation
In his long career as a CEO of manufacturing companies, Gale learned a valuable lessen: How an ERP system is implemented is as important as its capabilities.
"I've seen this over and over again. I come into a business that has a system in place, and everybody hates the system. I did it with JobBOSS, I did it with ASK Manman, I did it with Jobscope. I came in and everybody was cursing the ERP system, and I looked at them and I said, 'Yeah, well you've done a crap implementation.' And we re-implemented and ended up getting a lot more functionality."
Asked to expand on what a bad implementation looks like, Gale said:
"Most have been the result of inadequate training post-implementation. Everyone does the training up front, but not many invest in training after going live. My experience is that 50%-plus of the initial training is forgotten as people focus on the basics of bringing the system up. They then fail to fully implement the value-added features that led to the decision to upgrade."
There is still work to be done. Gale described the implementation process as "crawl, walk, run," and BLD Brands is still in the crawl stage. After that stage, he will layer in additional capabilities that the company does not yet use, such as dashboards, mobile apps, and some of the more advanced features within the financials. After that, he says he will embrace more advanced capabilities such as PowerBI and analytics.
Asked how he likes Acumatica, Gale said simply: "It's way better than I thought it would be."
With more than 130 locations and 3,700 employees, BLD Brands is quite a bit larger than Acumatica's typical customer, which often has fewer than 100 employees. Nevertheless, BLD's success shows that the combination of cloud ERP with experienced project leadership and a focused team effort can lead to rapid and successful implementation, even in larger companies.