Scope of the Report
The report covers the comprehensive cybersecurity services market, and showcase a need for a collaborative approach from enterprises and service providers to make their people, processes, and technologies secure. This also explores the double threat owing to more varied and sophisticated attacks and the expansion of risk perimeter with the inclusion of next-gen technologies such as cloud, IoT, and Mobility. It helps guide enterprises around the changing dynamics in terms of identifying, selecting, and engaging with third-party outsourcers to drive resiliency.
The report features highly detailed, comprehensive RadarView Profiles of the top 28 service providers and their assets and experience in combating the ever-growing security and privacy threats. This is also a good reflection of how service providers are expanding their security portfolio, and collaborating with their partner network and tying-up with academia to co-innovate and develop talent respectively to address growing business needs.
Why read this RadarView™ ?
Avasant's ongoing interactions with enterprise digital leaders indicate that data privacy and cybersecurity, especially as they transition to cloud and integrate disruptive technologies to generate new revenue streams, are a Board concern now. They also realize that security is a moving target, and the right service provider is critical for them to secure themselves in today's dynamic environment.
This report is designed to help enterprise leaders draw out their cybersecurity strategy and adopt best practices for organizing the people, processes, and technology within an enterprise. Also, service providers can use the report to re-align their product and service development investments, their go-to-market approach, and have an update on the competitor's cybersecurity practice.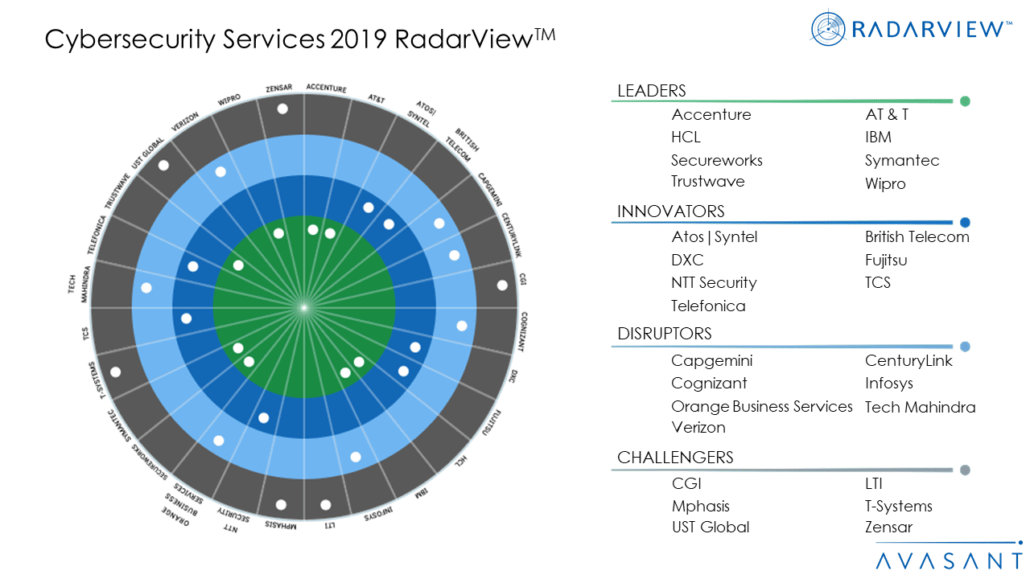 Featured Providers
Accenture, AT&T, Atos|Syntel, British Telecom, Capgemini, CenturyLink, CGI, Cognizant, DXC, Fujitsu, HCL, IBM, Infosys, LTI, Mphasis, NTT Security, Orange Business Services, Secureworks, Symantec, T-Systems, TCS, Tech Mahindra, Telefonica, Trustwave, UST Global, Verizon, Wipro and Zensar.
Methodology
Avasant follows a multi-pronged approach to gather practitioners' insights. This includes extensive and ongoing interviews and discussions with subject matter experts, Avasant Distinguished Fellows, and advisors involved with ongoing cybersecurity strategy development. This is augmented with online questionnaires and structured briefings with leading cybersecurity service providers.
Avasant evaluated 42 providers using a rigorous methodology across three key dimensions: practice maturity, partnership ecosystem, and investments, and innovations. Of the 42, 28 are recognized as having brought the most value to the market over the last 12 months and are categorized as Leaders, Innovators, Disruptors, and Challengers.