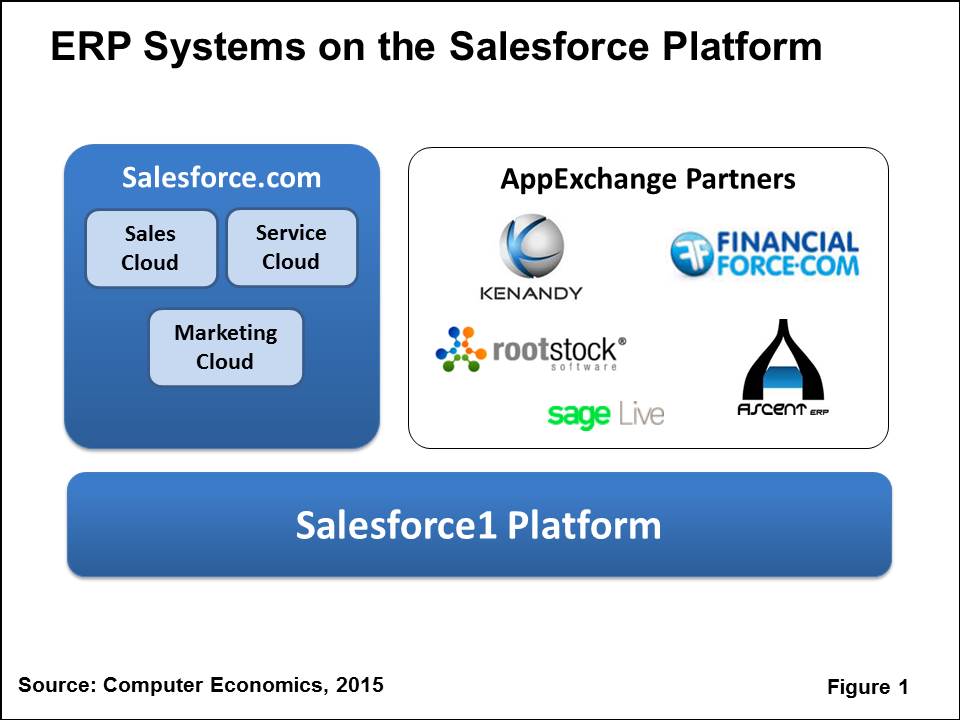 The Salesforce.com platform is a popular framework for development of cloud-based business systems. This community of developers, known as the AppExchange, has grown to well over 2,000 software companies that offer everything from small extensions to Salesforce.com functionality for specific industries to major business systems. In fact, there are now at least five providers in the AppExchange network that offer some or all of the functionality that would fall under the banner of ERP.
Last month, at the Salesforce.com annual user conference (Dreamforce), we had the opportunity interview these five ERP vendors and some of their customers. The providers we reviewed are FinancialForce, Rootstock, Kenandy, AscentERP, and a new entrant this year, Sage Live.
This Research Byte provides a summary of our findings, which are developed in more detail on the blog of our sister consulting firm, Strativa, as part of its ERP selection consulting work. A Research Byte last year has additional analysis of these providers.
FinancialForce
Founded in 2009, FinancialForce was the first provider to attempt to deliver full-featured accounting systems on the Salesforce.com platform. In 2013, its acquisitions of Vana Workforce and Less Software expanded FinancialForce from financial systems and professional services automation (PSA) into human capital management (HCM), order processing, inventory control, and cost accounting. As a result, the company now refers to its system as FinancialForce ERP, reflecting the expanding footprint of its offerings.
This year, FinancialForce is focusing on its addition of multi-dimensional accounting, embedded analytics, improvements in its user-interface, including an application for the Apple Watch, and interoperability of its financials, professional services automation systems, and Salesforce CRM.
Although FinancialForce continues to show strong momentum in the cloud ERP market, market competition is heating up, and FinancialForce can no longer lay claim to being the only accounting system provider on the Salesforce platform. As discussed later in this Research Byte, Kenandy already has its own native financial systems, Rootstock has just announced development of its own financials, and a new entrant, Sage Live, is launching as an alternative to FinancialForce.
For more analysis, including insights into growing pains that FinancialForce is experiencing, read this post on the Strativa blog: FinancialForce Expands Its Footprint in Cloud ERP
Rootstock
Rootstock Software is an up-and-coming manufacturing cloud ERP provider, built on the Salesforce.com platform. With a long history in manufacturing systems, the Rootstock development team built the first iteration of its system in 2008 on the NetSuite platform and then in 2010 rewrote it on the Salesforce platform, where it has continued development over the past five years.
This year, Rootstock announced that it is developing its own native financial applications, which will include general ledger, accounts receivable, accounts payable, and financial reporting. The new accounting functionality is designed to support a two-tier ERP strategy in larger companies, where individual business units or facilities run Rootstock's operational and financial systems with integration to the company's corporate general ledger and financial reporting systems.
Other new developments include embedded business intelligence, building on the new Salesforce Wave Analytics Platform.
For more analysis, including a case study for a recent Rootstock client, Solar City, read this post on the Strativa blog: Rootstock Rounding Out Its Cloud ERP Offerings.
Kenandy
Kenandy was founded in 2010 by Sandra Kurtzig, the original founder and CEO of ASK Group, the developer of the well-known ManMan ERP system back in the 1980s. She came out of retirement to start up Kenandy at the urging of her neighbor in Hawaii, Salesforce CEO Marc Benioff. The firm has high profile backing from Kleiner Perkins, a well-known Silicon Valley venture firm. Kurtzig recently moved up to the Chairman role, giving up day-to-day operational management of the firm to a new CEO, Charles Berger, who we interviewed at Dreamforce.
Kenandy has taken a contrarian strategy toward the so-called "two-tier ERP strategy" that is popular with other cloud ERP providers, such as NetSuite and Plex. The strategy of "two-tier" refers to the targeting of small divisions or operating units of larger companies that are running Tier 1 solutions, typically SAP or Oracle, at headquarters and in larger divisions. The cloud provider then targets its ERP solution for smaller divisions of the company that is integrated to the corporate system, usually for shared services such as financials, central order processing, or cross-company supply chain management. Going against this trend, Kenandy executives say that, although they will not turn away two-tier opportunities, they would rather work in what they consider a more strategic role with customers. This means targeting (1) large enterprises for a complete ERP solution, or (2) serving as a more agile "orchestration" solution for new lines of business within large enterprises.
For more analysis of Kenandy's strategy, including a case study for a recent Kenandy client, CivicSolar, read this post on the Strativa blog: Kenandy: Against the Tide of Two-Tier ERP
AscentERP
Though not as well-known as FinancialForce, Rootstock, or Kenandy, AscentERP is doing some interesting work within its industry focus of discrete manufacturing and wholesale distribution companies. It has also had the good fortune to receive some free media through its involvement with featured customers of Salesforce.
This year at Dreamforce, AscentERP was focusing on its work with the latest generation of the Salesforce user-interface, dubbed Lightning. With AscentERP's strong focus on the warehouse and factory data collection, it is also experimenting with Thunder, the newly announced event processing engine that Salesforce will use to capture large volumes of data from connected devices, such as smart products, manufacturing machinery, or any number of sensor-based equipment.
AscentERP has taken an open, agnostic approach to providing accounting applications. Instead of building out its own financial management applications, it chooses to partner for this functionality with other cloud providers. For larger firms, it partners with FinancialForce, discussed earlier. In addition, AscentERP integrates with Intacct, another popular SaaS accounting provider. For smaller companies, AscentERP can integrate with Quickbooks. Sage Live, discussed below, is a possible future partner.
For more analysis, including a great case study of Generation Tux, a joint customer of AscentERP and Salesforce.com, read this post on the Strativa blog: AscentERP Rises in the Cloud ERP Market
Sage Live
Sage is one of the world's largest providers of business applications for small and midsize organizations. Now in the cloud, it has taken a big step forward, launching Sage Live, a built-from-scratch accounting system on the Salesforce.com platform. Sage CEO Stephen Kelly and Salesforce CEO Marc Benioff jointly announced Sage Live in a press event in May 2015.
Though Sage only began development on Sage Live in January 2015, the product already has an impressive start. The system includes a general ledger that supports multiple companies, multiple currencies, and multiple dimensions—a feature usually found only in more mature financial management systems. There are basic systems for accounts payables and receivables, and payroll is planned in the near future. Most impressively, by making full use of the Salesforce Lightning platform, Sage Live features full functionality delivered on mobile devices.
In our discussion with Antoine Henry, vice president of product marketing for Sage Live, he indicated that Sage does not intend to build out Sage Live beyond the accounting and financial management applications. This is consistent with a trend observed in the AppExchange, where Salesforce is encouraging customers to build out composite applications from a variety of AppExchange partners instead of looking for an integrated suite from a single provider.
For more analysis, including what we see as potential downsides of building composite applications, read this post on the Strativa blog: Sage Puts Stake in the Cloud with Sage Live
Who Should Consider ERP on the Salesforce Platform?
Obviously, organizations that are already customers of Salesforce.com should consider ERP systems that are built on the same platform. These will most easily integrate with the CRM system, and in nearly all cases, they share the same object model for entities in common, such as the account entity.
The larger question is whether organizations that are not customers of Salesforce.com should also consider ERP systems built on the Salesforce platform.
In our judgment, functional fit is a key criterion. The ERP providers discussed in this Research Byte are fairly young, and in many cases they do not have the depth of functionality for certain industries. Furthermore, the solutions can be pricey when multiple AppExchange partners are needed to provide a complete solution. Nevertheless, where there is good industry experience, these providers have some impressive case studies.
As with any ERP system—whether cloud or on-premises—no system is a good fit for every situation. Fortunately, these providers appear to have a healthy funnel of new sales prospects, and generally they tend to be candid about where they think they are a good fit and where they should pass on an opportunity. Still, buyers should clearly define their selection criteria, evaluate providers against those criteria, and conduct due diligence on references.