The adoption rate for Human Capital Management (HCM) solutions continues to be high, although the overall satisfaction with this technology is relatively low compared to the 11 other technologies in our full Technology Trends 2016 study.
Figure 1 from our report, HCM Adoption Trends and Customer Experience, shows that, along with the high adoption rate, the investment rate is on the low side of moderate.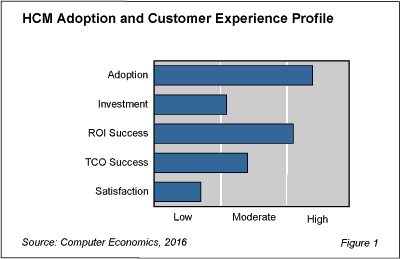 Figure 1 also shows that, among those organizations that have adopted an HCM system, the percentage that are at least breaking even on their investments within a two-year period is on the low side of high when compared with other technologies in the study. On the ROI metric, the percentage of organizations that are at least breaking even on their investments within a two-year period is on the low side of high.
HCM systems are a collection of applications that serve as the system of record for human resources (employees, contractors, and other personnel) throughout their life cycle, and they support HR-related business processes. In addition, HCM systems manage processes through the entire personnel life cycle, beginning with recruiting of prospective employees and contractors through termination and post-termination record-keeping. Finally, HCM systems often include record-keeping for retirees and others who receive HR benefits from the organization.
Most business leaders today believe that while competitors can imitate best practices, identifying, recruiting, and developing the best people is a sustainable, competitive advantage. Therefore, if an organization's IT strategy is aligned with its business strategy, human capital management systems deserve a prominent place in the application portfolio. However, while the benefits of HCM systems are relatively easy to describe, there are at least two major challenges in deploying them. We discuss those challenges in the report.
The full report quantifies the current adoption and investment trends for HCM technology as well as the benefits driving companies to expand their HCM implementations. We assess these trends by organization size, sector, and geography. We also measure customer experience in terms of the success rates for return on investment (ROI) and total cost of ownership (TCO). We wrap up with our recommendations for improving the ROI of HCM.
---
This Research Byte is based on our report on this subject, HCM Adoption Trends and Customer Experience. The full report is available at no charge for Computer Economics clients, or it may be purchased by non-clients directly from our website (click for pricing).