IT departments often find it difficult to keep track of all the hardware, configurations, software licenses, user permissions, and other information about IT assets. Logbooks and spreadsheets are not up to the task. In response, companies have worked to set up configuration management databases and IT asset management systems to bring every asset into a common management framework.
IT asset management, however, is not the most popular best practice in our annual major study, IT Management Best Practices, which measures the practice rates and levels of 33 IT disciplines. As shown in Figure 1 from our full report, IT Asset Management Adoption and Best Practices, the adoption of this IT management best practice earns a moderate rating. The rating is based on a comparison of the adoption of this practice with the 33 other IT management best practices.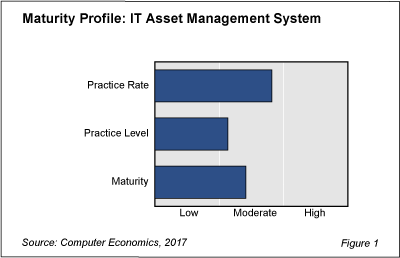 Clearly, the dream of having fully documented IT systems operating under a master plan remains elusive. While IT departments have been able to bring certain assets under control, as soon as one area has stabilized, the technology changes. User-owned smartphones and tablets, cloud storage, and even technologies designed (or at least promising) to simplify IT asset management such as SaaS and virtual desktops, keep moving the goal line. As the Internet of Things blurs the definition of an IT asset, IT asset management systems need to rise to the challenge.
Given the constantly changing nature of IT, an ideal asset management state may never occur. However, knowing precisely what equipment is owned and the current status of each item is essential. Because asset management systems track all components, it makes the retrieval of documentation and training easy for all organizational assets.
In the full report, we look at how far along organizations are in implementing asset management best practices, and at some of the tools and options for improving asset management. We also assess asset management adoption by organization size and sector.
---
This Research Byte is a brief overview of our report on this subject, IT Asset Management Adoption and Best Practices. The full report is available at no charge for Computer Economics clients, or it may be purchased by non-clients directly from our website (click for pricing).