More than half of IT organizations are increasing IT staff headcount this year in the most positive sign for IT job growth since the beginning of the recession. That is one of 13 findings from study, now in its 25th year, which collects data from more than 200 IT organizations in the U.S. and Canada on the IT budget and staffing plans for the current year.
The most positive finding in the study this year is that 52% of IT organizations plan to increase IT staff headcount, as shown in Figure 1-13 from the executive summary of our annual IT Spending and Staffing Benchmarks study. This is the first time since 2007 when more than half of IT organizations are increasing headcount, which should result in a 1% rise in staffing at the median.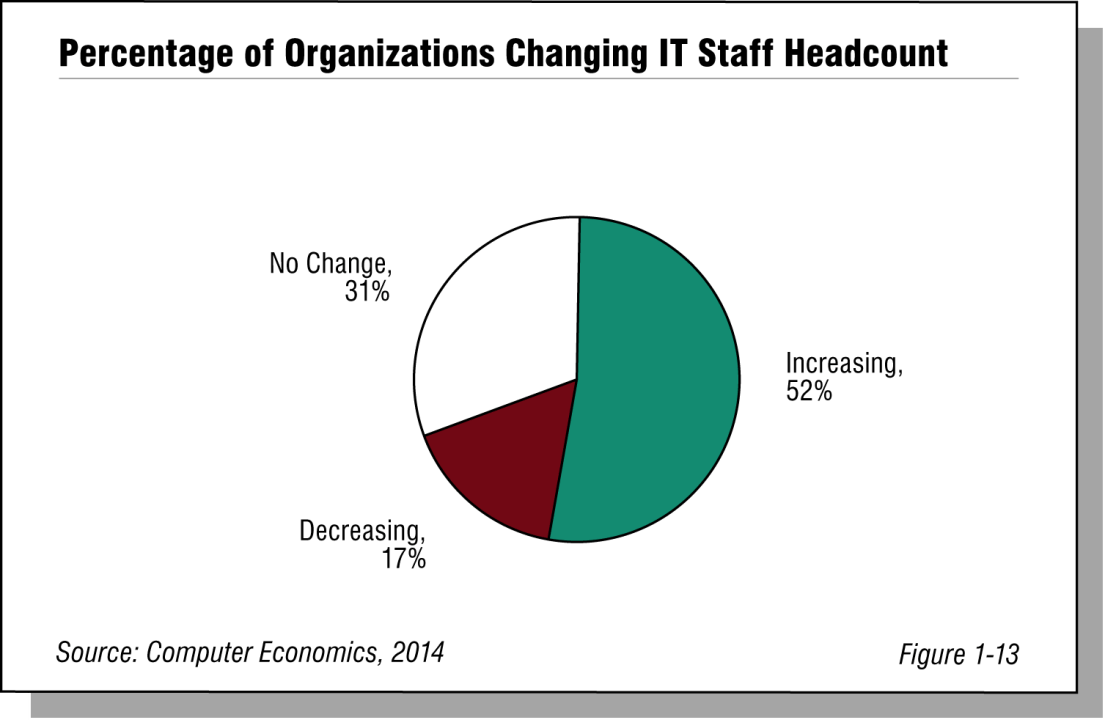 The hiring is primarily concentrated in larger organizations, but the rise in the median is a an indication that the recovery is broadening its base to include more midsize companies and additional sectors. The sectors with the highest rise in IT staff headcount include financial services at 5.0%, followed by healthcare providers at 3.9%.
In line with the IT staffing forecast, IT operational budgets will increase 2.4% at the median, a rise that is up slightly from a 2.3% growth rate in 2013 and a 2.2% growth in 2012. This marks the fourth year of slow and steady improvement in IT operational budgets.
In contrast to the modest rise in IT operational spending, IT capital spending growth has come to a halt with a 0.0% growth rate in budgets at the median. Why organizations are putting capital-spending growth on hold is uncertain. They could be simply delaying infrastructure upgrades in the interest of cost containment. They could be choosing to deploy an increasing number of systems in the cloud instead of with on-premises infrastructure, or they could be pausing to digest previous investments.
"The latter explanation may be the most likely," said Frank Scavo, president of Computer Economics. "Although the trend toward cloud systems is real, we do not believe it yet represents a major portion of the IT budget for most organizations."
The Computer Economics IT Spending and Staffing Benchmarks 2014/2015 study is based on a detailed survey of more than 200 IT executives in the U.S. and Canada on their IT spending and staffing plans for 2014/2015. It provides IT spending and staffing benchmarks for small, midsize, and large organizations and for 23 sectors and subsectors. A description of the study's metrics, design, demographics, and methodology can be found in the free executive summary.
---
This Research Byte is a brief overview of the finding in our Executive Summary of the IT Spending and Staffing Benchmarks 2014/2015. The full report is available at no charge for Computer Economics. clients, or it may be purchased by non-clients directly from our website (click for pricing).