While we anticipate IT security outsourcing will grow as more organizations embrace cloud and mobile computing solutions, the practice has increased only marginally since 2008, at the beginning of the economic downturn.
Our study, IT Security Outsourcing Trends and Customer Experience, finds that only 26% of all organizations in the U.S. and Canada outsourced IT security work in 2011, which is up only slightly from the 24% frequency three years earlier, as shown in Figure 1.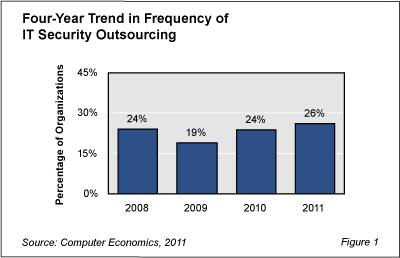 However, the four-year trend also shows the use of security services plunged to 19% in 2009 amid a wave of budget reductions, but then quickly recovered in a sign that this is one area where cost is only a secondary concern.
As our research shows, lowering expenses is not a major motive for outsourcing IT security. The primary motive for outsourcing security is to improve security rather lower IT expenses, and organizations tend to outsource this function to extend rather than replace internal capabilities. The upward trend since 2009 indicates that use of these services could continue to grow as managed security offerings expand in scope to address emerging issues, including the explosion of smart devices in the enterprise, changing government security mandates, and movement of data into the cloud.
In the full study, we examine the amount of IT security work being outsourced, the impact on costs and service levels, and the amount of IT security outsourcing broken down by organization size. We also examine the trend in offshoring IT security work. Finally, we examine the sectors most likely to engage in IT security outsourcing. We conclude with recommendations on IT security outsourcing.
---
This Research Byte is a brief overview of our report on this subject, IT Security Outsourcing Trends and Customer Experience. The full report is available at no charge for Computer Economics clients, or it may be purchased by non-clients directly from our website (click for pricing).