ITIL (the Information Technology Infrastructure Library) is the most
widely accepted approach to IT service management in the world.
That is a direct quote from the home page of the Office of Government Commerce (OGC), an agency of the federal government of the United Kingdom. While ITIL is nearly ubiquitous in Europe and in many parts of Asia, it is just gaining traction in the U.S. However, it is likely that U.S. companies will make the OGC claim a reality within the next two years—possibly by year-end 2006.
ITIL is a set of best practices for managing key IT service management support and delivery processes. While many IT organizations do manage most of the processes in some form, without ITIL these processes are usually not formalized. For example, IT managers in mainframe data centers will argue, with some justification, that the best practices defined in ITIL have long been a part of their everyday life. But even in these mature organizations ITIL may offer something that has been missing: the ability to better close the loop with other management best practices such as COBIT, CMMI, and Six Sigma
So, is ITIL gaining mindshare in the U.S.? The IT Services Management Forum (itSMF) 2005 USA Conference and Expo that was held in Chicago (Sep. 19-21, 2005) was a good place to find out. This was the fifth year in a row that Jupiter Media has hosted this conference and expo in the U.S., and it was clearly the most successful to date. Preliminary results indicate that there were nearly 2,000 attendees representing over 700 companies and government agencies.
The expo floor attracted over 100 vendors, including most of the major IT vendors that have an impact on IT service management in some respect, such as IBM, HP, Microsoft, Sun, Computer Associates, BMC Software, Peregrine, and EDS. Additionally, the conference attracted representatives from over 30 countries. The number of attendees increased significantly this year and, possibly even more telling, the number of vendors doubled from 2004.
Not a Household Name in the U.S.
During the conference, Computer Economics spent a good deal of time interviewing attendees on the expo floor to find out the state of ITIL adoption in their organizations. Although attendees at this conference would be expected to be among those furthest along in ITIL implementation, it became clear that the majority of organizations represented at the conference had not even begun to implement ITIL—they were there merely to gain a clearer understanding of what ITIL had to offer. This is one indication that ITIL is only just beginning to obtain a foothold in the U.S.
To gain an additional understanding of where U.S. companies stand on ITIL, Computer Economics recently ran an informal survey on our website regarding the adoption of ITIL. We asked the IT professionals the following question: "Has your IT organization adopted ITIL best practices in at least one discipline?" Figure 1 illustrates the results of that survey.
According to the survey, only 6% of the respondents indicated that their organization has adopted ITIL best practices to help manage at least one IT service discipline. Eleven percent of the companies polled indicated they are currently in the implementation process. Another 17% are researching the benefits of ITIL, while 11% indicated they have no plans as yet. However, over 50% of respondents indicated that they had not even heard of ITIL. Clearly, advocates of ITIL still have much work to do in delivering their message to IT management in the U.S.
Broad Acceptance Worldwide
As mentioned earlier, ITIL is well-entrenched in Europe and has been for many years. Additionally, many Asian countries are adopting ITIL best practices, with India and Japan leading the charge. In fact, according to EXIN International, ITIL's leading international certification organization, ITIL growth in Asia this year has increased by 300% over 2004. EXIN, which is a non-profit organization based in the Netherlands, has been providing IT-related certifications for approximately 40 years in areas such as ITIL, MOF, CMMI, ASL, DSDM, and ISPL.
ITIL certifications are divided into three levels of complexity as follows:
Foundations Certification: indicates the certified individual has an understanding of the basic terms, concepts, and relationships between ITIL processes.
Practitioner Certification: indicates the certified individual has proven abilities in the specialized and practical aspects of one or more of the ITIL processes.
IT Service Manager Certification: indicates the certified individual has demonstrated his or her ability to implement and manage IT services across all of the ITIL processes.
Tracking the number of ITIL certifications from year to year is a good way to measure the adoption of ITIL. To date, EXIN states they have administered approximately 170,000 ITIL certifications on a worldwide basis. The vast majority of these individuals have taken the Foundations Certification, with over 150,000 exams administered by EXIN at that level. The Practitioner Certification exam has been given to approximately 6,000 individuals, while the IT Service Manager Certification has been taken by approximately 12,500 IT professionals.
U.S. Interest Growing
Despite the fact that many IT organizations in the U.S. are still unclear what ITIL is and what it can offer, the trend in certification exams indicates that this situation is changing. While the majority of the 170,000 exams that EXIN has administered in the past were taken by individuals in European-based corporations, the 2005 numbers indicate a major shift.
Figure 2 illustrates how quickly the ramp-up is occurring in the U.S. As the data indicate, the number of new ITIL exams administered in the U.S. has increased from less than 50 per month in January to over 1,300 per month in August. EXIN USA, the U.S. division of EXIN International, forecasts that this number will increase even more dramatically in 2006.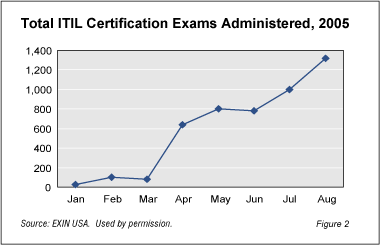 Vendors Jump on the Bandwagon
Another indicator of increased adoption of ITIL is the number of vendors that are showing an interest in it. Clearly, the increase in vendors exhibiting at the Chicago conference this year indicates that many major vendors expect ITIL to be widely accepted in the U.S. Products and services that have long been a mainstay in IT shops are now being marketed as ITIL-based or ITIL-compliant.
One vendor that has a strong story to tell regarding its ITIL track record is EDS. The technology services giant has been watching ITIL developments closely for quite some time, in part driven by its large contingent of international clients that demand ITIL best practices in their organization. During the Chicago conference, Computer Economics interviewed several EDS personnel, including Bernie Mamon, whose title is Vice President Certified ICT Infrastructure Manager and ITIL Foundation. His title alone provides some insight into the interest that EDS has in ITIL. According to Mamon, EDS has been working on ITIL since 1999 and has implemented ITIL best practices across all of its major data centers.
EDS is not alone in its interest in ITIL. All of the major outsourcers and providers of managed services are moving in this direction as well. Additionally, there is an entire cottage industry of small, medium, and large IT consulting organizations that are providing a variety of services including ITIL training, assessments, implementation and a long list of tools to help ensure that ITIL processes are effectively measured and managed.
Let the Buyer Beware
Observing the vendor exhibits at the Chicago conference, it is clear that many of them are simply re-labeling their existing products and services as "based on ITIL best practices." It would probably be more accurate for these vendors to state that their products and services are "ITIL compatible." But that wouldn't carry as much marketing impact.
For example, HP is clearly touting that OpenView is "based on" ITIL best practices. While the service modules that comprise OpenView do a good job of complementing the IT service and support processes defined in ITIL, it may be too much to state that HP OpenView, which has been around for nearly 20 years, is based on a methodology that is just now gaining acceptance in the U.S. On a special note, HP's announcement that it is acquiring Peregrine indicates that it is serious in its strategy to provide an end- to-end solution for IT service management that will support ITIL.
While HP's statement regarding OpenView may be a bit strong, HP can at least make a good case that it is "ITIL-compatible." On the other hand, many vendors may be less able to support a position that their products and services are closely integrated with ITIL. Computer Economics recommends that buyers be wary of vendor claims of "ITIL compliance." The fact is that most vendors are really just getting started in the ITIL world, and while their products do help support IT service management, they may not integrate well into an ITIL support and delivery model.
Prior to selecting products to support an ITIL initiative, it would be wise to send several team members through an accredited ITIL training program. Additionally, it may also be advisable to seek the advice of a consulting organizations with a proven track record in ITIL training or implementation. Be sure to look for organizations that have "ITIL masters" on board. This is a common designation for those individuals that have achieved ITIL Service Manager Certification.
October, 2005