The standard corporate desktop, with its burdensome support costs, is likely to change dramatically over the next decade with innovations such as desktop virtualization, thin-client computing, PC support automation, and hosted applications. But the most significant change occurring today is the steady shift toward mobile computing and laptop computers. Enterprises are deploying laptops to more and more users to increase mobility, flexibility, and productivity. Our research indicates that, for the typical enterprise, the ratio of laptops to total PCs grew by 10% over the past year, and we anticipate that this trend will accelerate in the coming year.
This Research Byte is a summary of our full report, Laptop Growth and Technical Support Staffing Requirements.
As with all technologies, laptops have advantages and disadvantages. From the perspective of IT organizations, laptops can ease the burden of relocations, changes, and upgrades. But there are also costs: Laptops cost more than comparably equipped desktops, introduce new security threats, suffer damage more frequently, and are more costly to repair than desktops.
Throughout this study, we refer to laptops and desktops collectively as PCs. Laptops include most portable form factors, with the exception of handheld email devices, such as the Blackberry and Treo. The term "desktop" includes both desktop PCs and higher-end workstations. The term "PC" is not limited to Wintel platforms, but encompasses Windows, Linux, Macintosh, and other operating systems, including thin-client operating systems.
Improvements in laptop capabilities, coupled with falling prices, are prompting more and more organizations to replace desktops with laptop PCs. Figure 1 shows that laptops grew from 20.0% of the PC count at the median in 2007 to 22.9% this year, based on our annual survey of about 200 IT organizations balanced by size and sector. This represents a 10% increase in the ratio of laptops to PCs for the median organization. Computer Economics forecasts an even higher growth rate over the coming year. We project that laptops should comprise more than one-fourth of the total PCs for the typical organization by 2009, based on current trends.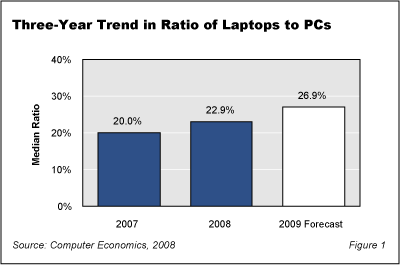 The full version of this report examines current PC platform trends and how the changing mix of laptops to desktops is influencing IT staffing requirements. We start by examining the changing mix of laptops and PCs. We look at the change over the past year, the growth in laptop and desktop inventory counts, and how the ratio of laptops to desktops varies by organizational size and sector. Then we determine whether aggressive laptop adoption is having any influence on technical support and help desk staffing requirements. Finally, we conclude with our assessment of the impact of laptops on IT spending and the potential of desktop virtualization to bring about change in the future.
---
This Research Byte is a brief overview of our report on this subject, Laptop Growth and Technical Support Staffing Requirements. The full report is available at no charge for Computer Economics clients, or it may be purchased by non-clients directly from our website at https://avasant.com/report/laptop-growth-and-impact-on-technical-support-staffing-requirements-2008/ (click for pricing).