The surveying of user satisfaction is a widespread practice among IT organizations in North America today, but more often than not, the surveying is limited in scope.
Our study, User Satisfaction Surveying Adoption and Best Practices, finds that about two-thirds of all IT organizations periodically survey users. In fact, we rate this practice as being highly adopted in comparison to other widely touted IT management best practices in our annual study, IT Management Best Practices.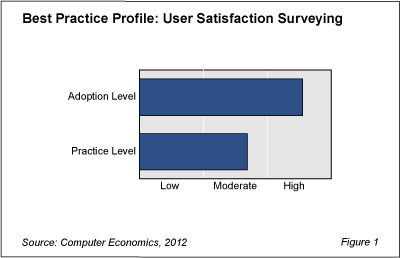 The practice level, however, earns only a moderate rating. Many organizations that conduct user satisfaction surveys are only partially engaged with the practice. They may be conducting surveys on an ad hoc or occasional basis, when a perceived need arises such as before a system upgrade, or they may only be surveying users about certain services or systems.
For example, some help desk systems send out a survey request to determine user satisfaction each time a help desk incident is closed. Such surveys are useful for determining the satisfaction with help desk services, but they will not reveal dissatisfaction with other IT services. This type of surveying can measure user satisfaction in such areas as application support and development, desktop support, help desk operations, network service, and IT training.
The full study examines the extent to which IT organizations have deployed user satisfaction surveys and measures the level of organizational engagement in the practice. We look at the percentage of organizations that are partially and fully engaged with the practice. We also look at how adoption of this IT management best practice differs by organization size. Finally, we determine which industry sectors are most likely to be engaged in this best practice.
CIOs have long been encouraged to manage IT like a business, and customer satisfaction is a key success factor for all organizations. Periodically assessing the satisfaction level of business users is essential to understanding how well the IT organization is fulfilling its mission.
---
This Research Byte is a brief overview of our report on this subject, User Satisfaction Surveying Adoption and Best Practices. The full report is available at no charge for Computer Economics clients, or it may be purchased by non-clients directly from our website (click for pricing).