With constantly changing cloud environments, SD-WAN is transforming enterprises and allowing them to evolve quickly. With COVID-19, most of companies have adopted work-from-home policies, which is causing a shift in approach to more hybrid connections, more cloud enablers, and thriving analytics and artificial intelligence. SD-WAN and secure access solution edge (SASE) will bring many differences in the upcoming year, with all solutions in one secure platform.
These and other trends are covered in Avasant's SD-WAN Managed Services 2020 RadarView™ report. The report provides a view into market trends, developments, and best practices to help build a granular understanding of the SD-WAN ecosystem. The study showcases key capabilities of the top managed service providers and their potential to help companies identify the right partner. It also highlights Avasant's view on the road ahead for enterprises leveraging SD-WAN managed services for the next 12 to 18 months.
Avasant evaluated more than 36 providers using three dimensions: Practice maturity, partnership ecosystem, and investments and innovation. Of the 36-plus providers, we recognize 27 as having brought the most value to the market over the past 12 months.
The report recognizes service providers in four categories:
Leaders: AT&T, HCL, IBM, Orange Business Services, and TCS.
Innovators: Lumen Technologies, Infosys, Masergy, NTT, Tata Communications, Tech Mahindra, Verizon, and Wipro.
Disruptors: Aryaka, British Telecom, Cato Networks, GTT, Mphasis, Telefonica, T-Systems, Windstream, and Zensar.
Challengers: Atos, CBTS, Hughes System, Microland, and Telstra.
These four categories are illustrated in Figure 1 from the full report: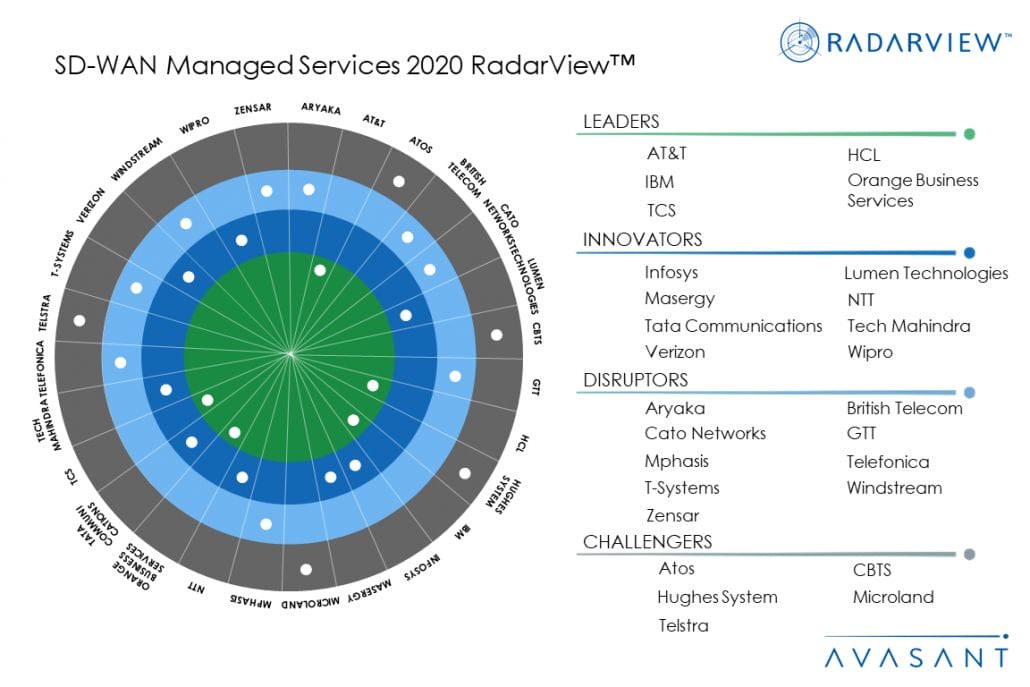 "SD-WAN is gaining traction, and it's a crucial advancement in networking and cloud-connected systems," said Avasant's Research Leader Shwetank Saini. "While adoption of SD-WAN has gained momentum, more than 80% of the market share is yet to be tapped. There is a space for competition for new solutions and offerings. Significantly, the next generation of SD-WAN is here that integrates automation and AI to drive business policies with less intervention or customization."
Some of the key findings from the report include:
Choose SD-WAN to lay a foundation for business sustainability and transformation.
Businesses must choose a value-driven business case for migration to SD-WAN, and not think of it merely as a cost saving tool, which are less expensive than costly MPLS circuits.
SD-WAN solutions meet the challenges and address growing need for cloud-based applications. As SaaS (software as a service) applications are designed to be much nimbler and have more efficient consumption methods, it needs a modern internet-centric network solution, SD-WAN to truly shine.
Keep security central while planning your SD-WAN deployment.
There are a range of solution options to be considered in SD-WAN technology purchasing from a basic SD-WAN solution to the more all-inclusive Secure Access Service Edge (SASE) models.
Some organizations will only require essential SD-WAN software for basic routing and failover functions. SASE models can offer integrated Firewalls, Secure Web Gateways, Cloud Services peering and potential for Content Delivery Networks, offering an entire internet cloud services ecosystem.
Engage with managed services providers that use automation & AI Ops.
Managed Services Providers are utilizing automaton and AI Ops capabilities for ITSM, incident detection, troubleshooting, and optimizing customer WAN performance, bringing in their strategic AI platforms to take on Network duties.
Organizations need to shift from policy driven network decisions to AI Operations, and must engage with managed services providers that can deliver unmatched network service level agreements.
Evaluate and choose appropriate technology and deployment models.
Deployment strategies with SD-WAN technology providers offer options for either fully managed, co-managed and DIY solutions. Each has different sets of implementation and transformation challenges and contractual requirements necessary for strong service delivery.
Do it yourself style Bring Your Own Access/Device/License/Network are easily deployed 'plug-and-play' solutions that leverage existing network connectivity and devices and may be less disruptive.
The full report also features detailed RadarView profiles of the 27 SD-WAN Managed services providers, along with their solutions, offerings, and experience in assisting enterprises in Software Defined Wide Area Networking.
---
This Research Byte is a brief overview of the SD-WAN Managed Services 2020 RadarViewTM report . The full report is available at no charge for Avasant Research subscribers, or it may be purchased by non-subscribers directly from our website (click for pricing).
---