Scope of the Report
The report provides a view into market trends and developments, and best practices to help build a granular understanding of the SD-WAN ecosystem. The study showcases key capabilities of the service providers and their potential to help enterprises identify the right partner. It also highlights Avasant's view on the road ahead for enterprises leveraging SD-WAN Managed Services over the next 12 to 18 months.
Avasant evaluated more than 36 service providers using a rigorous methodology against the key dimensions of Practice Maturity, Partnership Ecosystem, and Investments and Innovation. The report recognizes 27 that generated the greatest value over the past 12 months.
Why read this RadarView™ ?
With the constant changing infrastructure involving cloud environment, SD-WAN is transforming and driving growth adoption for the enterprises to evolve quickly. With COVID-19, most of the companies have enforced to work remote which is causing for shift in approach for more hybrid connections, more cloud enablers and thriving automation and artificial intelligence.
The SD-WAN Managed Services 2020 Radarview™ Report highlights key trends how different industries adopted SD-WAN, lays out the view on the road ahead for enterprises, and highlights the role of services providers in enabling security as primary focus for the future.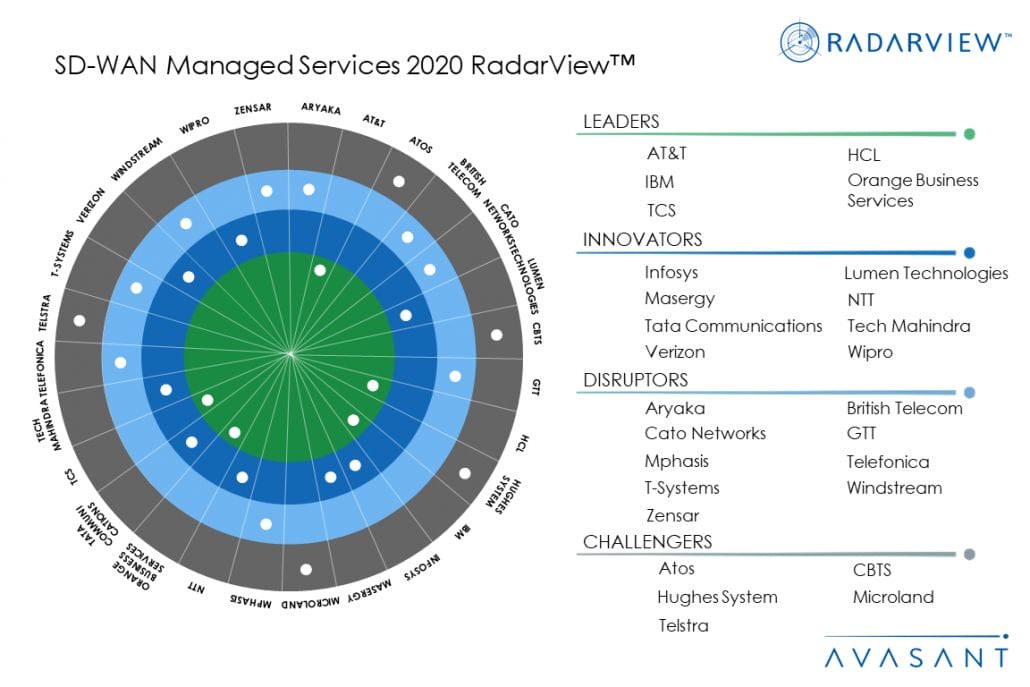 Featured Providers
Aryaka, AT&T, Atos, British Telecom, Cato Networks, CBTS, GTT, HCL, Hughes System, IBM, Infosys, Lumen Technologies, Masergy, Microland, Mphasis, NTT, Orange Business Services, Tata Communications, TCS, Tech Mahindra, Telefonica, Telstra, T-Systems, Verizon, Windstream, Wipro, and Zensar.
Methodology
The industry insights and recommendations are based on Avasant's ongoing interactions with enterprise CXOs and other key executives, targeted discussions with service providers' practice leads, subject matter experts and fellows within Avasant, learnings from consulting engagements, and round the year tracking of this space by Avasant analysts.
Evaluation of service providers is based on primary inputs from providers, focused briefings, their public disclosures, Avasant's ongoing market interactions, and validations from enterprises (clients). The assessment is carried through a rigorous methodology across key dimensions of Practice Maturity, Partnership Ecosystem, and Investments and Innovation to finally recognize the service providers that brought the most value to the market over the last 12 months.
---
Click here to access the Research Byte based on this report.
---