With the cost of developing new products rising and regulatory oversight increasing, profit margins are shrinking for life sciences companies. In response, they are investing in digital technologies to reduce costs and shorten development cycles. They are also pursuing acquisitions and investments in specialized companies to strengthen their technological capabilities specifically in the R&D and clinical trials phase of the value chain. As this requires a strong integration of domain and technological expertise, life sciences companies are collaborating with service providers in their digital transformation journey.
These emerging trends are covered in Avasant's Life Sciences Digital Services 2022–2023 RadarView™. The report is a comprehensive study of digital service providers to the life sciences industry, including top trends, analysis, and recommendations, and it takes a close look at the leaders, innovators, disruptors, and challengers in this market.
Avasant evaluated 41 providers using three dimensions: practice maturity, partner ecosystem, and investments and innovation. Of the 41 providers, we recognized 20 that brought the most value to the market during the past 12 months.
The report recognizes service providers in four categories:
Leaders: Accenture, Cognizant, HCL, Infosys, TCS, and Wipro
Innovators: Atos, Genpact, IBM, Tech Mahindra, and Virtusa
Disruptors: Birlasoft, Capgemini, LTI, and NTT DATA
Challengers: CGI, EPAM, Hexaware, Mindtree and Mphasis
Figure 1 below from the full report illustrates these categories: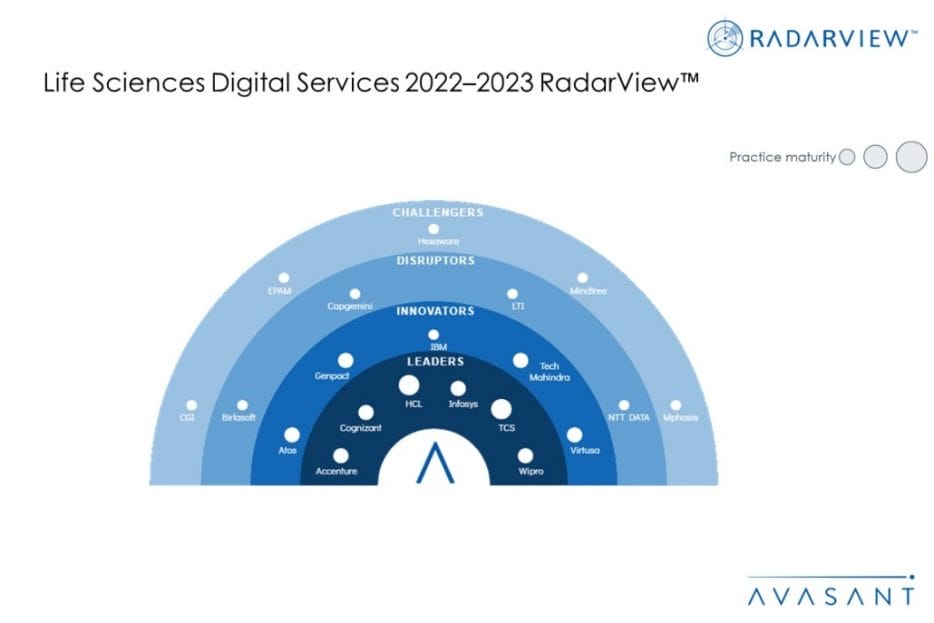 "Life sciences companies are under constant pressure to expedite the drug/device launch process despite increased production costs," said Nishant Verma, Avasant partner. "Investments in decentralized clinical trials, biosimilars, industry-specific platforms, and home-based medical devices have become imperative."
The full report provides a number of findings and recommendations, including the following:
Evaluate alternatives to expedite drug launch and expand focus on chronic diseases.

Make advancements in drug discovery by leveraging platforms such as Biomarker for assessing indicators, NLP for translating literature, and AI for precision medicine.
Explore alternatives to manage chronic diseases by investing in biosimilars (generic versions of biologic drugs), nutraceuticals (for wellness management), and home-based medical devices (for preventive care).
Prioritize investments in digital technologies to reduce drug development costs.

Accelerate digitalization in clinical trials by using a telemedicine platform for decentralized trials, AI to extract relevant data from failed trials, and analytics to predict any failures in trials.
Optimize and regulate manufacturing and supply chain workflows using computer vision for quality control checks, IoT devices for serialization and tracking shrinkage, and analytics for calculating supplier risks.
Invest in or partner with MedTech companies, progressive technology companies, and service providers to acquire technological expertise in drug launch and patient engagement processes.
"The challenges faced by life sciences companies are not new, but they are accelerating," said Pooja Chopra, research leader with Avasant. "Companies that do not address digital transformation and new technology will find it increasingly difficult to compete."
The full report also features detailed RadarView profiles of 20 service providers, along with their solutions, offerings, and experience in assisting retailers in digital transformation.
---
This Research Byte is a brief overview of the Avasant Life Sciences Digital Services 2022–2023 RadarView™ (click for pricing).
---