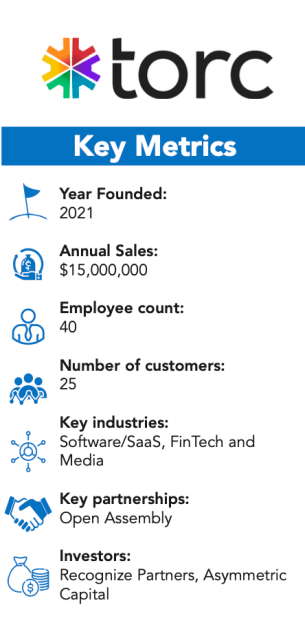 Torc is a software development talent marketplace founded in 2021 and operated by technology and business veterans. It leverages an AI-driven engine to match developers and companies worldwide. The Torc community features a growing network of remote, pre-vetted, cloud-native application developers in over 100 countries. Torc's commitment to their personal and professional growth and improving the developer experience is what makes Torc unique.
One of the remnants of the COVID-19 pandemic for enterprises can be felt sharply in the IT department, where talent scarcity, rising salaries, and a desire for remote work are big challenges, particularly in application development.
It is a pressing issue, indeed. There has been a surge in tech job openings in the past few years, and the need is increasing rapidly. By 2026, the BLS estimates that the shortage of technical talent may surpass the one-million mark. With unemployment for developers below 2%, this trend will continue in 2023, particularly for specialized technology skill sets.
One popular way for enterprises to supplement their full-time application development staff, as well as build out their resource strategies, is the use of contract workers. Factors leading to the use of freelancers include variable project-based demand for developers, the need for specialized skills, an understanding of the benefits that hybrid staffing models provide, and a desire to leverage workers from lower-cost offshore or nearshore locations.
As shown in Figure 1, the common method of hiring freelance developers uses traditional outreach-based matching, which is typically three weeks from initiating the search to static CVs and first interviews. Whether done in-house or using an outside recruiter, it usually involves running job ads or fishing for candidates on LinkedIn. From there, the hiring manager needs to qualify candidates through interviews, reference-checking, code review, or other means.
In addition, companies often struggle to find the exact development skills they need, and it often takes too long—many months or more—to find the right freelancer for a project.
Growing Network of Cloud- Native Developers
Into this breach have stepped talent marketplaces, including the fast-growing Torc. This VC-backed marketplace is a global development network founded, funded,
and operated by technology and business veterans from Cognizant, Catalant, Atomic, Topcoder, Mozilla, and Harvard. Torc's expansive developer community allows for faster speed to code, said Michael Morris, CEO and co-founder of Torc.
Torc continuously recruits for six, core building-block roles of cloud app development, and it currently focuses its development stable on six roles: frontend developers, backend developers, full-stack developers, Salesforce.com developers, DevOps engineers, and software architects across cloud platforms, including Amazon Web Services (AWS), Microsoft Azure, and Google Cloud Platform (GCP). Torc currently has over 10,000 developers on its platform.
When a developer signs up as a member of the Torc community, they provide the usual information such as job history, career goals or interests, self-identified skill sets, and programming languages that they know and a view into their historical coding activity from platforms such as GitHub. Developers are then provided opportunities to participate in screenings andassessments to establish their fluency in, for example, React or Python.
The sessions are recorded and provide a set of assets that create a portfolio of data about the developer. As active members of the community, developers start to generate data within the platform that Torc's underlying technology uses to understand their coding behavior and establish metrics on their productivity. All this information is compiled to create a rich online developer profile, Morris said. The result is a pre-vetted community of active developers—not just a self-service platform such as Upwork or a platform for the traditional talent-sourcing process.
The quality that sets Torc apart from other talent marketplaces is how it is focused heavily on serving its developers, including providing productivity and developer experience tools and mentorship. As shown in Figure 1, Torc's community-based matching—48 hours to rich profiles, five days to hired developers—far surpasses the traditional outreach-based matching, with its slow slog from static CVs to first interviews.
Many Advantages
The Torc community of developers offers companies in any industry many advantages:
A clear picture of a developer's skill set before the hiring process begins. Unlike the traditional model, where a marketplace only lets the hiring manager search a large database of candidates, Torc winnows down the list of candidates to the most qualified, so the hiring manager can focus on those developers. Vetted developers are sorted by role, technology, and seniority. As mentioned above, Torc keeps a tight rein on which job roles and which cloud-based environments it allows in its stable to ensure a standardized approach to vetting and skills comparison, which delivers higher-quality candidates at scale.
Strong organic community growth through developer word of mouth. Torc is doubling in size every quarter, CEO Morris said, so clearly, this approach is working. The mission of Torc is resonating in the developer community as members interested in freelancing can rely on Torc as a platform that has their best interests aligned, he said.
Torc's community approach also often leads to organic team formation. When a customer is happy with its current Torc developer and wants to expand the team, Torc first works with the original developer to refer their peers to join. This not only expedites the matching process but also results in more productive teams since the team has worked together in the past.
Torc handles the process of screening, vetting, background checking, contracting, and handling all payments and incentives with the developers, which streamlines the onboarding process and helps companies improve their speed to code.
Torc has established a proprietary mentoring model under its talent success function. This allows members to utilize mentors for things like technology skills, development environments, communication skills, and even soft skills training required to work in a remote work environment.
Another strong point is Torc's tools for developers to track, manage, and continually improve their performance. This proprietary tracking technology, which Torc added when it acquired Codealike, produces detailed metrics to show developers where they are spending time, including effort spent on coding, debugging code, reading code, and what languages they are working in. But it's not a "big-brother-is-watching" scenario. The tracking/managing tools help developers avoid burnout, empower them to take control of their efficiency metrics, and offer recognition for team and individual performance. Codealike is a quantified-self application similar to a fitness tracker but focused on work activity rather than exercise.
Simplicity in the Contracting Model
As for how developers get paid, they work for Torc, and Torc bills the clients—which is a typical staff augmentation model. But that's not where the innovation is. The innovation, as stated above, is serving the prequalified developer community, and makes them the strategic focus.
"We do not track developer hours from a rate-card perspective," Morris said. "It's either a full-time equivalent of a 40-hour week, or a half-time equivalent of a 20-hour week. As long as you're providing developers who are doing great work, clients love the simplicity of the model."
Torc is not just a buying platform for enterprises. It is also a marketing platform for its developers. Many freelancers have great talent but don't do a good job at promoting themselves. Torc allows them to showcase their projects in a professional, easy-to-access way. Their profiles showcase an impressive number of details on their completed projects, skills, and experience.
One well-established feature that Torc has kept in its arsenal is the try-before-you-buy aspect, where enterprises can hire a developer after the first year working together—or pay a fee if they want to hire the developer within the first year. While a buyout option is typical in staff augmentation, Torc's approach of removing the buyout fee after the first year shows its community-first and client-first commitment. "We want to be the number one strategic talent sourcing option for our clients and job sourcing option for our community, and that goes beyond individual freelancer placements," Morris said. "If we provide the best candidates, the best jobs, and the best experience for everyone, clients and developers will keep coming back to Torc when they're ready for their next job."
Torc believes flexible staffing is the best model for engineering leaders to mold their teams to the current business needs. Torc contracts allow for the swapping of resources so managers can adjust their teams' make-up in advance of business needs. Morris explains, "Most companies still think traditionally when it comes to staffing. We want them to feel like they are managing a fantasy team of talent, where adjustments can happen based on the latest challenges the team faces. This ends up being favorable for CFOs also because it allows for the expansion of skill sets while staying within set budgets. Developers are also better off being removed from a team where they are underutilized and going back to the Torc customer base for their next engagement."
As evidence of Torc's intention to support the growth of developers within its community is the placement feature companies benefit from when partnering with Torc. It's a modern take on the age-old "temp-to-perm" concept. This allows technology leaders to use an on-demand freelance model for their software teams and keep the ability to hire and grow their internal talent.
As evidence of Torc's intention to support the growth of developers within its community is the placement feature companies benefit from when partnering with Torc. It's a modern take on the age-old "temp-to-perm" concept. This allows technology leaders to use an on-demand freelance model for their software teams and keep the ability to hire and grow their internal talent.
Future of Talent Marketplaces
Identifying freelancers to fill development needs has taken on new significance in the wake of the pandemic. Companies that need to restructure quickly find that talent-marketplace technology is a great help in meeting their changing business needs.
But it's a crowded field. Other talent-management or recruitment platforms in this space include Turing, Toptal, Gun.io, Braintrust, TekSystems, Upwork, DevTeam.Space, Topcoder, Working Nomads, Mondo, and many others. Torc believes that most platforms cast too wide a net. Many talent marketplaces try to supply talent for hundreds of the latest technologies and coding languages. In Torc's view, that is trying to boil the ocean and prevents them from using AI and automation to fuel the scale of their business model. Torc also believes that other recruitment platforms don't adequately vet their developers, or they rely too much on resumes and LinkedIn.
One challenge that Torc may face is the sheer number of developer talent-management platforms. If the crowded field follows a typical startup road map, consolidation and acquisition will be in order, most likely in the next couple of years. This can affect any company's game plan. Furthermore, it bears watching how many contract developers sign up on Torc, or if developers sign up on multiple platforms, leading to their limited availability.
Despite these challenges, in our view, Torc's business model—to build the pre-vetted developer community in advance of the hiring need—is a real innovation. It has also been wise to focus on a limited number of supported development environments. For these and other reasons, Torc is experiencing accelerating adoption amongst enterprises and is a tech innovator to watch.
Avasant's Tech Innovators program is aimed at finding and highlighting firms that use emerging digital technologies to build products and services of the future. These emerging players are pushing the boundaries for innovation by disrupting traditional business models. They bring together new technologies within their industries and markets to enable business transformation.
---
Disclaimer: In this Tech Innovators series, Avasant relies on information provided by the companies covered and is not equipped to independently verify representations made or to conduct technical due diligence