Unified communications systems come in many flavors and can provide payoffs for companies small and large. At the simplest level, unified communications adds value by improving personal productivity, but the greatest returns come from integrating the technology into business applications throughout the enterprise. The latter approach transforms workflow by introducing enterprise capabilities and combining resources in a manner that is not possible without unified communications systems.
Computer Economics research shows early adopters are achieving positive results, both in return on investment (ROI) and total cost of ownership (TCO). Risk appears low thanks to predictable costs. We also find that while this technology is still early in its adoption cycle, our research points to rising interest. Current interest can be attributed to many factors, among them lower costs, improved standardization, and widespread adoption of voice over IP systems, a key enabling technology.
This Research Byte is a summary of our full report, Predictable Costs Positive Sign for Unified Communications.
Instant Communications Streamlines Business Processes
The promise of unified communications appears straightforward. By altering business practices, unified communications should provide employees, business partners, and customers greatly improved communications on a global basis in real-time. This seamless ability to stay in touch can streamline business processes currently limited by communications gaps. Furthermore, the ability to communicate with whomever one wishes through whatever communications device is most handy (PC, cell phone, or PDA, for example) provides unprecedented flexibility.
Implementing the technology requires both infrastructure upgrades and deployment of new systems. The foundation of unified communications is the ability for anyone to send and receive information in real-time on any media, such as having a voicemail message transferred to email. Typically, the systems cover telephone, voicemail, email, fax, and chat services. More capable systems add instant messaging, video, pager, and web services. The primary measure of effectiveness of these systems is their ability to reduce the time it takes for messages to transit the communications system and reach the recipient–that is, reducing latency.
Perhaps the most intriguing aspect of unified communications is presence detection, or presence awareness, which is the ability to determine where intended recipients are at any time. This feature enables employees to collaborate regardless of how far apart they are or where they happen to be during the day. The interactive directory permits any combination of voice, text, file, or video information exchange within a period of a few minutes. For example, a customer service representative can answer a buyer's technical question immediately by contacting a specialist who happens to be on the road. Eliminating delays such as "phone tag" should provide customers with unprecedented response times and improve efficiency within the organization.
Vendor Solutions Provide Mix of Features
Unified communications solutions offer various mixes of these services, tailored to the company's needs and budget. In some cases, compatibility among vendors offers the opportunity to combine features in novel ways. Among the available products are Cisco Unified Presence Server, IBM Lotus Sametime, Microsoft Office Communications Server, Nortel Networks Converged Office, Siemens OpenScape, and Unison Technologies' Unison Server. Figure 1 provides an overview of features within each of these offerings.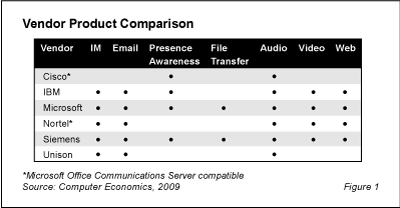 The full version of this report assesses the growth in unified communications by analyzing current adoption activity and provides a view of the ROI and TCO experienced by early adopters. We examine adoption, ROI, and TCO by organization size and sector, as well as for the composite sample.
Moving to unified communications is inevitable for most companies, if only to maintain their competitive stature. Companies with large staffs of knowledge workers or service personnel can gain from "anywhere, anytime" communications. As more workers spend more time away from company offices, being able to instantly reach out to the right person brings many benefits.
---
This Research Byte is a brief overview of our report on this subject, Predictable Costs Positive Sign for Unified Communications. The full report is available at no charge for Computer Economics clients, or it may be purchased by non-clients directly from our website at https://avasant.com/report/predictable-costs-positive-sign-for-unified-communications-2009/ (click for pricing).