Over the past decade, Workday has shown strong growth in its cloud-based suite for human capital management (HCM), especially among large enterprises. Now to continue its pace of growth, Workday expands its focus to include midsized organizations and also customers outside North America. To execute this strategy, it is increasingly relying on implementation and managed services providers to reach these prospective buyers. This RadarView provides an analysis of the service providers that are working in partnership with Workday to carry out this strategy.
This is one of the top findings from Avasant's Workday HCM Services 2021–2022 RadarView™, a comprehensive study on Workday service providers, taking a close look at the leaders, innovators, disruptors, and challengers in this market.
This report also addresses the need for enterprises to accelerate their digital journeys, embrace the cloud, and identify the right Workday HCM service providers. It highlights key trends in the Workday services market and our view on the market's direction over the next 12 to 18 months.
Avasant evaluated 36 providers using three dimensions: practice maturity, partner ecosystem, and investments and innovation. Of the 36 providers, 15 are recognized as having brought the most value to the market over the past 12 months.
The RadarView recognizes platform providers in four categories:
Leaders: Accenture, Collaborative Solutions, Deloitte, IBM, and OneSource Virtual
Innovators: Alight, Capgemini, and Kainos
Disruptors: KPMG, Mercer, and PwC
Challengers: Avaap, DXC, Hexaware, and Invisors
The following figure from the full report illustrates these categories: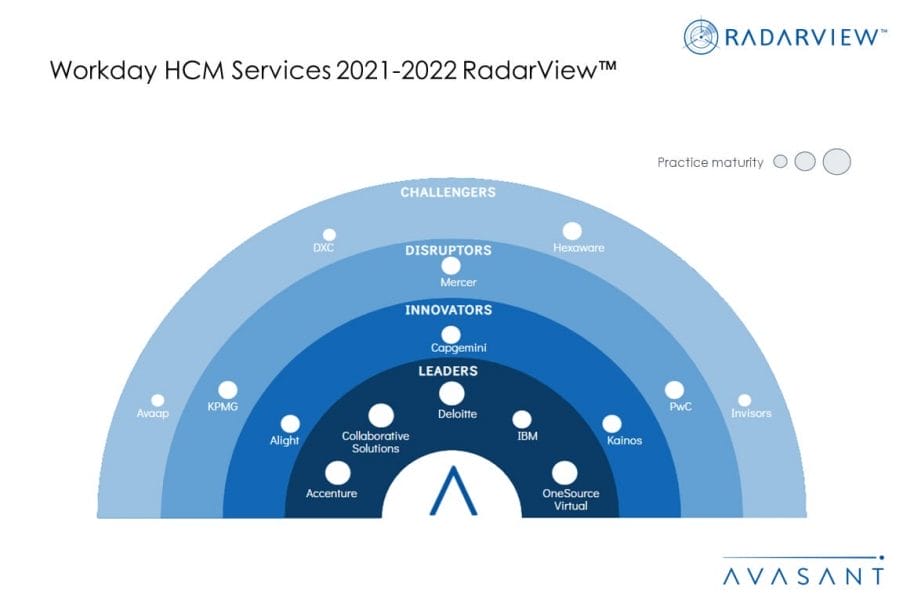 "Workday is unique among SaaS providers in that it started with a focus on large enterprises," said Frank Scavo, a partner at Avasant. "Now, to continue growing, it has to extend its focus to midsized customers and also branch out beyond North America. There's no way for Workday to do that without service provider partners."
Here are some key findings from the full report:
Over the past five years, Workday's total revenue from subscriptions quadrupled, and its share of revenue from international customers increased from 17% to 25%.
Workday is increasing its reliance on service providers for implementation and managed services to diversify its target customers from large global enterprises to include small and midsized organizations and regional players outside North America.
Enterprises are implementing Workday HCM to improve employee experience and generate actionable insights through analytics by integrating global workforce data.
Service providers offer personalized user experience to end-users by leveraging employee data and cognitive technologies like artificial intelligence (AI), machine learning operations (MLOps), extended reality, and quantum computing.
"The real opportunity for Workday clients of all sizes is to personalize the end-user experience by leveraging employee data and cognitive technologies," said Gaurav Dewan, associate research director with Avasant. "This unification of HR processes can improve strategic decision-making and enhance employee experience throughout the employee life cycle."
The full report also features RadarView profiles of the top 15 service providers, including their solutions, offerings, and experience in assisting enterprises in digital transformation.
---
This Research Byte is a brief overview of the full Workday HCM Services 2021 (click for pricing).
---