This report is designed to help enterprises define their approach for Workday HCM adoption and to identify the right implementation partner to support them. It covers key trends shaping the market and Avasant's viewpoint on the road ahead for enterprises adopting Workday over the next 12 to 18 months.
The report features RadarView profiles of 15 service providers, including their solutions, offerings, and experience in assisting enterprises in their digital transformation journeys. It is also a good reflection of how enterprises are increasingly leveraging employee data and cognitive technologies to include artificial intelligence (AI), machine learning operations (MLOps), extended reality, and quantum computing. Further, organizations are implementing Workday HCM to address emerging use cases such as enhancing end-user experience, improving visibility over their global workforce, and integrating HR processes across their organizations.
Why read this RadarView?
Enterprises are focusing on improving end-user experience by developing highly personalized solutions using analytics and cognitive technologies with the help of Workday service providers.
This report assesses Workday service providers based on their ability to offer implementation and managed services with limited disruption.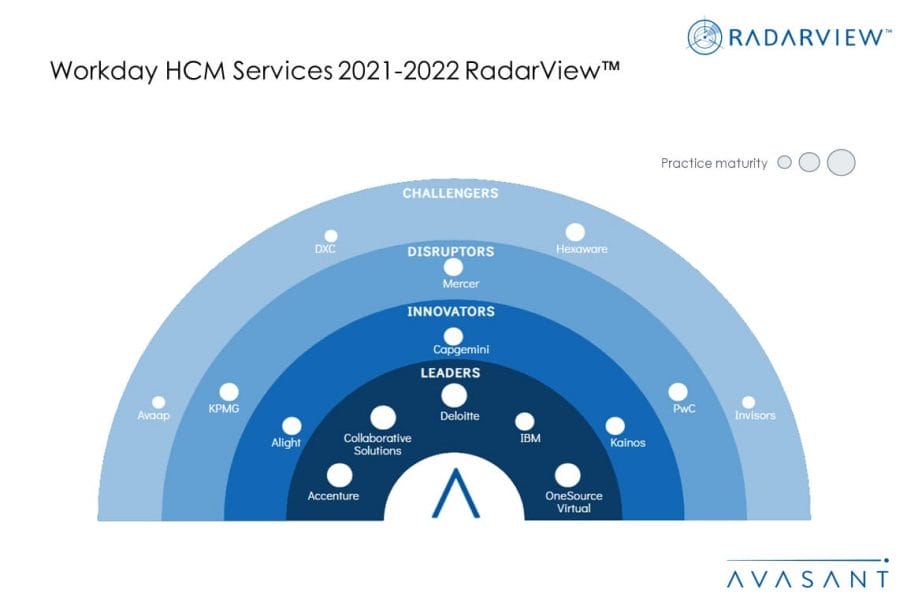 Featured providers
This RadarView includes a detailed analysis of the following Workday service providers: Accenture, Alight, Avaap, Capgemini, Collaborative Solutions, Deloitte, DXC, Hexaware, IBM, Invisors, Kainos, KPMG, Mercer, OneSource Virtual, and PwC.
Methodology
Avasant follows a multipronged approach to gather the practitioner's insights. This includes extensive and ongoing interviews and discussions with subject matter experts, Avasant distinguished fellows, and advisors involved in strategy development for digital transformation through Workday. This is augmented with online questionnaires from leading Workday implementation service providers.
Avasant evaluated 36 service providers across the dimensions of practice maturity, partner ecosystem, and investments and innovation to recognize 15 service providers that have brought the most value to the market over the last 12 months.
Table of contents
About the report (Page 3)
Executive summary (Pages 4–9)
Defining Workday human capital management (HCM) services
Key Workday HCM trends shaping the market
RadarView assessment
Lay of the land (Pages 10–18)
Role of service providers expand with increase in Workday's popularity
BFSI and education industries consider Workday to be a key area of spending
Enterprises improve speed and scalability through automation of HR processes
Workday's analytics capabilities help improve efficiency in workforce planning
Service providers improve user-experience by collaborating with customers and leveraging cognitive technologies
Service providers develop specialized solutions for effective workforce management in post-pandemic economy
Service providers augment their capabilities by actively acquiring other Workday partners
RadarView overview (Pages 19–24)
Methodology and coverage
Interpretation of classification
RadarView assessment
Service provider profiles (Pages 25–55)
Featured service providers: Accenture, Alight, Avaap, Capgemini, Collaborative Solutions, Deloitte, DXC, Hexaware, IBM, Invisors, Kainos, KPMG, Mercer, OneSource Virtual, and PwC.
Authors (Page 57)
---
Read the Research Byte based on this report.
---