Service Providers Facilitating The Jump From Legacy Systems to Oracle Cloud ERP
Over the past two years, enterprises have accelerated their adoption of Oracle Cloud Enterprise Resource Planning (ERP), in many cases to replace older, highly customized ERP systems. The unified platform provided by Oracle Cloud ERP is an integrated environment that helps optimize business processes, improves process visibility, and is better able to handle increasing customer demand. This is one of the top findings from Avasant's 
Oracle Cloud ERP Services 2021–2022 RadarView™
, a comprehensive study on Oracle Cloud ERP services, taking a close look at the leaders, innovators, disruptors, and challengers in this market. This report also addresses the need for customers to accelerate their digital journeys, embrace the cloud, and identify the right Oracle Cloud ERP service providers. It highlights key trends in the Oracle Cloud ERP services market and Avasant's viewpoint on the market's direction over the next 12 to 18 months. Avasant evaluated 30 providers using three dimensions: practice maturity, partner ecosystem, and investments and innovation. Of the 30 providers, 24 are recognized as having brought the most value to the market over the past 12 months. The RadarView recognizes platform providers in four categories:
The following figure from the full report illustrates these categories: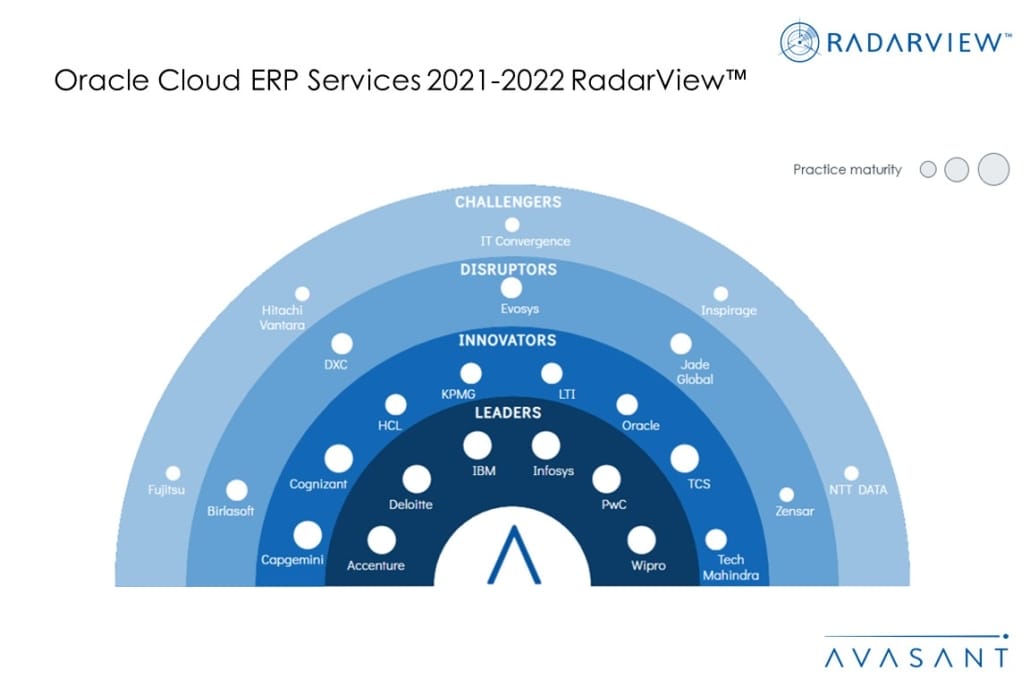 "Oracle Cloud ERP is the successor to Oracle's older ERP systems, such as E-Business Suite, PeopleSoft, and J.D. Edwards, but there are still some functionality gaps between it and those older systems," said Avasant Partner, Frank Scavo. "Service providers are in a good position to advise Oracle installed-base customers where there are gaps and what to do about them." Some of the findings from the full report include the following:
AI/ML-powered platforms, tools, and bots integrated with Oracle Cloud ERP have accelerated transformation and enabled third-party relations and contracts management.
Enterprises are safeguarding their Oracle environment by using security analytics platforms, securing their cloud framework, and introducing control accelerators built by service providers. This enables organizations to identify security risks, assess their Oracle environment, manage compliance, and protect data confidentiality.
Service providers are introducing industry-specific solutions for sectors such as high-tech, life sciences, manufacturing, and retail and consumer-packaged goods. Organizations are employing these solutions for optimizing inventory, tracking processes digitally, and standardizing data synchronization.
Service providers have incorporated change management as part of their Oracle Cloud ERP transformation strategy to develop training materials, create a workshop strategy, and establish a help desk. This will help promote adoption of Oracle Cloud ERP.
"When done right, Oracle Cloud ERP can make an organization more agile," said Sanchita Pati, senior analyst with Avasant. "It does it by helping to standardize business processes, giving decision-makes access to real-time information, improving operational efficiency, and ultimately improving customer experience." The 
full report
 also features RadarView profiles of the top 24 service providers, including their solutions, offerings, and experience in assisting enterprises in digital transformation.
---
This Research Byte is a brief overview of the full Oracle Cloud ERP Services 2021–2022 RadarView™  (click for pricing).