AntWorks recognized as an Innovator in Avasant's IA Tools 2019 RadarView™ Report
Among endless service provider options, novel and disruptive mechanics in innovation brings recognition as an Innovator for Intelligent Automation Tools 2019.
Read the Avasant report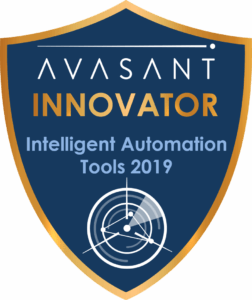 "

Offers Cognitive Machine Reading using fractal science capabilities. Leverages partners to drive vertical focus and add deployment options.

"
Learn More
AVASANT ANALYST INSIGHTS
Product Maturity
The ANTstein platform is built using fractal science and has 3 building blocks: Availability, Usability, and Mobilization (AUM). It supports end-to-end processing, from the capability to read, identify, classify and digitize data, establishing data certainty and enrichment from external sources, to decisioning or transacting data using its own RPA stack or API-based consumption or microservices.
It took a different approach towards machine vision and combined image recognition with NLP modeling, object recognition, fractal based machine learning, cognitive learning and heuristics to built Cognitive Machine Reader (CMR). CMR does not use and is completely different from OCR.
It also offers vertical point bots that are 80% ready and need 20% customization for domain-specific tasks. Examples include TaxBot and TitleBot.
In terms of security, its in-house credentials vault stores the user IDs and passwords in an encrypted manner and offers a multi-layered security solution.
It introduced its partner program last year and since then, built a network of more than 50 partners (SIs and ISVs). These partners bring geo and vertical play. For instance, it partnered with Chazey Partners to expand its presence in Latin America; and with Ideas2IT, it tapped into the education vertical.
Enterprise Adaptability
With its leadership team coming from back/front-office BPO background where resource utilization, infra utilization, business continuity were the prime KPAs, they brought these principles to digital operations management. Hence, it offers no-code/low-code solutions to design bots faster, increase bot productivity through cognitive responsiveness, offer multi-tenancy to optimize bot's utilization, and self-healing capability to manage system failures.
With the help of its partner network, it added cloud as a deployment option. Enterprises can leverage the services of one of its cloud providers.
It offers implementation support to its customers and recently launched LMS, a self-certification program in English and Japanese.
It incentivizes customers by reducing implementation-related fixed costs for the initial year and offers additional modules at adiscounted price.
Innovation Roadmap
In July 2018, AntWorks raised USD 15M through Series A funding from SBI Holdings to drive growth by expanding its marketing and sales channels along with entering new markets including investments towards R&D.
It plans to invest most of the organizations budget in improving its tools, including smarter BOT development to cut the development time in half and drive localization through NLP with a multi-lingual feature.
It continues to upskill internal talent by organizing events/hackathons where participants are required to solve a real-life problem within a limited time. It also participates in consortiums, annual events, and summits for brand building, delivering thought leadership sessions and lead generation.
DISCLAIMER:
This graphic was published by Avasant LLC as part of a larger research document and should be evaluated in the context of the entire document. The document is available upon request from Avasant website. Avasant does not endorse any provider, product or service depicted in its research publications, including RadarViewTM, and does not advise users to select only those providers recognized in these publications. Avasant's research publications are based on information from best available sources and Avasant's opinion at the time of publication, and their contents should not be construed as statements of fact. Avasant disclaims all warranties, expressed or implied, with respect to this research, including and warranties of merchantability or fitness for a particular purpose.