Despite an uptick in the market for servers and storage in the first quarter, IT organizations this year are spending less on data center hardware as percentage of the IT operational budget, continuing a long-term trend that was briefly interrupted by the recession.
The steady drop in hardware spending is good news, for the most part. A gradual drop in spending on hardware and related operating system software is desirable and indeed should be a top business priority. By spending less on hardware that is not central to business-specific missions, companies are able to focus more of their personnel and budget resources on developing applications and processes tied closely to their primary business.
According to our study, Data Center Hardware Spending and Operating System Trends, the typical business plans to spend 8.5% of its IT budget on storage and servers in 2010, as shown in Figure 1. This is down from 10.2% in 2009 and 13.5% in 2006.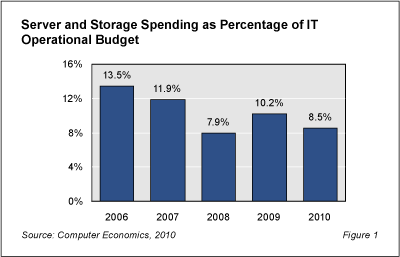 The advent of the recession in 2008 did bring a modest halt to this general trend. After slashing capital spending in 2008, organizations began cutting personnel last year, which may be responsible for the temporary rise in 2009 in server and storage spending as a percentage of the total IT budget.
The factors driving the longer-term shift in IT spending away from hardware and toward areas such as application software, network infrastructure, and data center software include declining hardware costs and better utilization of hardware assets through virtualization. Going forward, growth in cloud computing and other forms of outsourcing will also result in a shift from capital to operational spending and thus a decline in hardware expenses.
In the full study, we examine the five-year trend in spending on servers and storage. We also look at the spending trends for data center software and PC hardware. Finally, we examine operating system trends in the data center, comparing how Windows Server, Linux, Unix, IBM mainframe, and IBM Series i (OS/400) usage have changed over time. We conclude with our recommendations on managing spending on hardware infrastructure.
---
This Research Byte is a brief overview of our report on this subject, Data Center Hardware Spending and Operating System Trends. The full report is available at no charge for Computer Economics clients, or it may be purchased by non-clients directly from our website (click for pricing).