This RadarView Scan provides key information on vendors that offer integration platform as a service (iPaaS). The report begins with the definition and key enterprise use cases of iPaaS. It then highlights and compares the functionality offered by four vendors for addressing multiple business challenges.
Each profile provides an overview of the vendor, details of the platform offered, business challenges solved for enterprises, and a list of representative clients and partnerships, along with key developments in the iPaaS offering. The report can aid companies in identifying the right vendor for addressing their application integration use cases.
Why read this RadarView?
iPaaS is a cloud-based platform that enables businesses to connect and integrate various applications, data sources, and services in a seamless manner. It also provides a centralized hub for managing integrations, allowing organizations to streamline their workflows, automate processes, and enhance overall productivity.
This report identifies prominent iPaaS vendors and their offerings. It also provides a comparative view of their platforms, along with vendor comparisons.
The following figure from the full report illustrates vendor assessments: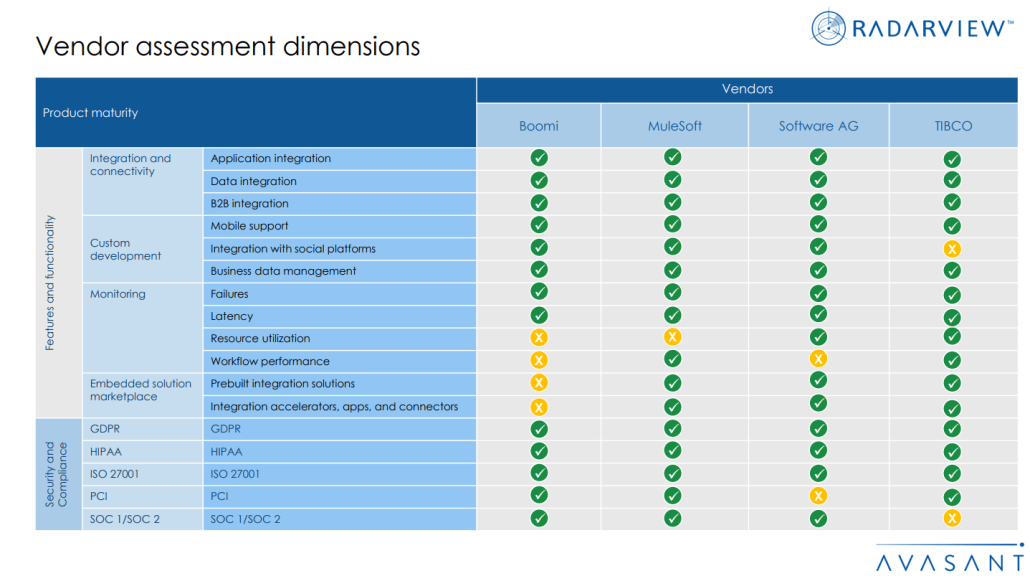 Featured providers
This RadarView Scan includes an analysis of the following iPaaS vendors: Boomi, MuleSoft, Software AG, and TIBCO.
Methodology
The insights and analysis presented are based on our ongoing interactions with senior executives, vendors, subject matter experts, and Avasant Fellows, along with lessons learned from consulting engagements.
Our evaluation of service providers is based on public disclosures, case studies, product sheets, executive interviews, and our ongoing market interactions. The assessment is for the features and functionality of iPaaS vendors, leading to our recognition of those vendors that have brought the most value to the market.
Table of contents
Defining integration platform as a service (Page 3)
Research methodology and coverage (Pages 4–5)
Avasant's

Integration Platform as a Service 2022

RadarView

Scan assesses vendors across two

dimensions
iPaaS vendors competitive analysis (Pages 6–7)
Vendor assessment (Pages 8–9)
Vendor

assessment

dimensions
Vendor profiles (Pages 10–14)
P

rofiles for

Boomi, MuleSoft, Software AG, and TIBCO
Key contacts (Page 16)