An adequate IT management structure is essential for the long-term survival of a business today as IT organizations evolve into managers and brokers of services.
In particular, the role of IT finance, including vendor management and procurement, has become more important. As shown in Figure 7 from our study, IT Management and Administration Staffing Ratios, IT finance is one category that has been rising in the post-recession era. IT finance personnel as broadly define is now 2.0% of the IT staff at the median, up from 1.5% level in 2013.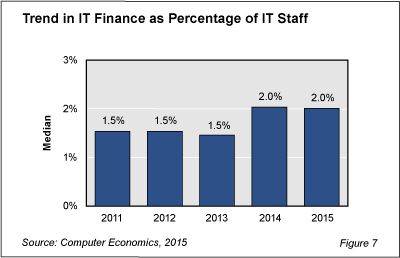 The rise coincides with the uptick in cloud computing, which simultaneously reduces staffing in data center and programming and increases demand for vendor management and IT accounting skill sets. The need to negotiate and oversee service-level agreements with service providers is rising, along with requirements for cost accounting and financial planning expertise specific to the IT function.
The full study shows that as a percentage of the IT staff, IT management has remained relatively constant over the past several years. We have seen growth in the ranks of project managers, business analysts, and finance/vendor management personnel, which may be one factor that has helped restrain growth in the number of IT managers required to run today's IT organizations. IT organizations have been holding their management head count relatively flat while investing in specialized disciplines.
The study examines the question of how many managers a well-run IT organization requires and presents staffing metrics for IT managers as well as two related staffing categories: IT finance and clerical/administrative support. The study defines these categories as follows:
IT Managers—IT managers are employees whose primary job function is to manage people. We group all IT management levels, including executives, into a single job function. First-level managers such as supervisors and team leaders who are primarily "doers" are not counted as managers.

IT Finance, Vendor Management, and Procurement—This category comprises employees whose primary job function within the IT organization is related to finance, accounting, budgeting, procurement, vendor contracts, or vendor management. For brevity's sake, we refer to this category collectively as the IT finance function, although it also includes vendor management and procurement personnel.

Clerical Staff—This category includes administrative assistants and other personnel who primarily carry out administrative support functions.
To benchmark IT managers we use two metrics: IT managers as a percentage of the IT staff and users per IT manager. We provide metrics for small, midsize, and large organizations. To provide further perspective, we consider the five-year trend in IT managers as an average percentage of the IT staff. We report similar metrics for IT finance and clerical staff.
Having an appropriate number of managers is essential for a smooth-running IT department. A top-heavy organization can become bureaucratic, while an organization with too few managers can become chaotic and unable to focus on long-term objectives. Insufficient management resources also can push management tasks onto people who are ill-equipped to take on those roles.
---
This Research Byte is a brief overview of our report on this subject, IT Finance and Administration Staffing Ratios. The full report is available at no charge for Computer Economics clients, or it may be purchased by non-clients directly from our website (click for pricing).
Do you also need staffing ratios for other IT job functions? Consider this collection of all of our staffing ratio reports, which bundles them all into a single report at a significant discount: IT Staffing Ratios–Special Report Bundle.