Despite the ongoing shift toward managing IT as a service, IT management has remained relatively constant over the past several years, and this year is no exception. Our full study, IT Management and Administration Staffing Ratios, is designed to help CIOs and IT directors assess their IT management needs, and it shows a slight uptick in management as percentage to total IT staff.
As seen in Figure 1 from the study, the average ratio of IT management positions to total IT staff was 10.2% at the median in 2016.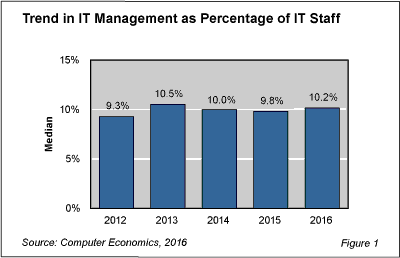 Optimizing the number of managers is essential for a competently run IT department. A top-heavy organization often becomes bureaucratic, while an organization with too few managers can become chaotic and unable to focus on long-term objectives. The full study examines the question of how many managers a well-run IT organization requires and presents staffing metrics for IT managers and two related staffing categories: IT finance and vendor management and clerical/administrative support.
To benchmark IT management we use two metrics: IT managers as a percentage of the IT staff and users per IT manager. We provide metrics for small, midsize, and large organizations. To provide further perspective, we consider the five-year trend in IT managers as an average percentage of the IT staff. We also report metrics for IT finance and clerical staff. The full study is based on our annual IT Spending and Staffing Benchmarks.
---
This Research Byte is a brief overview of our report on this subject, IT Management and Administration Staffing Ratios. The full report is available at no charge for Computer Economics clients, or it may be purchased by non-clients directly from our website (click for pricing).