IT management has been in transition for some time, from a focus on managing the technology itself to using technology to help a business achieve its strategic objectives. In theory, imposing disciplines on IT processes should improve productivity and make IT more responsive to the business. Many organizations are turning to the Information Technology Infrastructure Library, better known as ITIL, to accomplish this goal.
This Research Byte is a summary of our full report, ITIL Implementation Trending Up, But Adoption May Slow.
Large IT organizations are continuing to expand ITIL initiatives at a healthy pace, but new adoption may be slowing. The obstacles to adoption are real, and benefits are sometimes difficult to quantify. Furthermore, the current economic crisis is not favorable to investment in long-term improvement programs such as ITIL. On the other hand, a downturn in business volume may be the best time to make changes to IT processes and services, as personnel may have more time for such initiatives.
Our study does find some indication that organizations already engaged with ITIL have been accelerating their investments. This is a good sign, as we believe that in the long run organizations focused on continuous improvement will survive and ultimately prosper.
ITIL v3 Emphasizes Service Life-cycle Management
The Information Technology Infrastructure Library is a comprehensive set of policies and concepts for managing IT infrastructure and service. The document is founded on the principle that an alignment between IT and business strategy is critical and that effective IT service management is necessary for that alignment.
ITIL was originally published in the 1980s by The U.K. Central Computer and Telecommunications Agency, and it is still governed by the U.K. Office of Government Commerce. Even though ITIL was developed during the 1980s, adoption was light until the early 1990s and has only gained traction in the U.S. within the past few years.
ITIL's goal is to provide structured, flexible guidelines for establishing governance standards around IT service management. Advocates tout the program's benefits as improving alignment between the business and IT, increasing user satisfaction, lowering costs, optimizing outsourcing, improving service levels, increasing service availability, and improving the ability to manage change, among other things. Some critics find the guidelines too prescriptive and inflexible, and barriers to adoption include lengthy implementation, disruption of current processes, high up-front training costs, and relatively slow return on investment.
ITIL Benefits and Barriers to Success
Figure 1 summarizes the main benefits in favor of ITIL adoption and the potential barriers to success.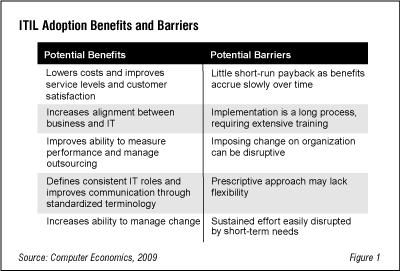 The full version of this report begins with a brief explanation of ITIL's history and current framework for IT service management. We next summarize the ITIL adoption trends in the U.S.and Canada, examining levels of adoption by organization size and sector. The study concludes with best practice recommendations for a phased, incremental approach to ITIL implementation.
ITIL is the most comprehensive approach to standardizing IT operations and improving overall management. It is currently used by thousands of companies worldwide with proven results. Most IT managers struggle with a lack of structure and a reactive mode of operation that accompanies a lack of processes and procedures. ITIL offers a solution for putting the pieces of the puzzle into place to take a more proactive approach to improving the IT organization's performance.
---
This Research Byte is a brief overview of our report on this subject, ITIL Implementation Trending Up, But Adoption May Slow. The full report is available at no charge for Computer Economics clients, or it may be purchased by non-clients directly from our website at https://avasant.com/report/itil-implementation-trending-up-but-adoption-may-slow-2009/ (click for pricing).