The number of intelligent automation engagements has increased by 75% in the last 12 months, with industry-specific process automation accounting for 70% growth in the share of new automation implementations. Growth in AI-enabled hyperautomation has increased use cases for prediction, recommendation, analytics, and reporting. Other areas in order of enterprise priority were workflow integration and automation, intelligent data capture, iBPM, and process discovery. As automation tasks become more sophisticated, we would expect continued growth in this area.
These emerging trends are covered in Avasant's new Intelligent Automation Services 2020-2021 RadarView™ report. The report is a comprehensive study of intelligent automation services, including top trends, analysis, recommendations, and a close look at the leaders, innovators, disruptors, and challengers in this market.
Avasant evaluated 45 providers using three dimensions: practice maturity, partnership ecosystem, and investments and innovation. Of those 45 providers, we recognize 24 as having brought the most value to the market during the past 12 months.
The report recognizes service providers in four categories:
Leaders: Accenture, Capgemini, Cognizant, HCL, IBM, Infosys, TCS, Wipro
Innovators: EXL, Genpact, ITC Infotech, Mindtree, NTT DATA, Tech Mahindra
Disruptors: Coforge, CSS Corp, DXC, Hexaware, LTI, Zensar
Challengers: Atos, Mphasis, Sutherland, UST
Figure 1 from the full report illustrates these categories: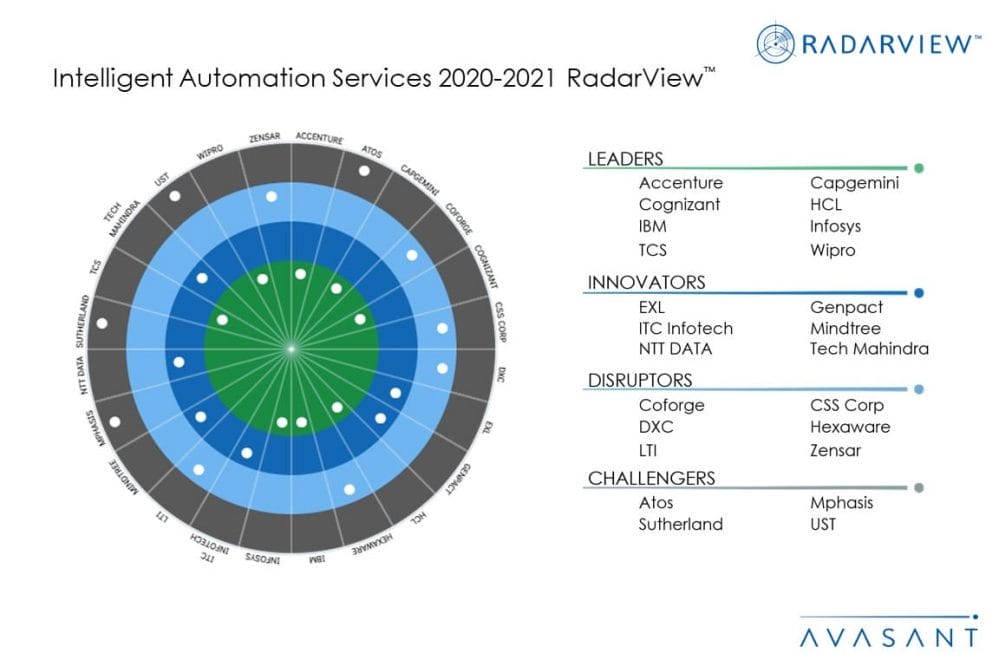 "The scope of intelligent automation has not only expanded in terms of processing complex scenarios but also now includes automation of managed services. Emerging self-service capabilities such as self-healing, self-installation, self-scaling, and self-learned workflows will become mainstream over the next 12 months," said Anupam Govil, Avasant Partner and Digital Practice Lead. "To enable unattended automation, enterprises should redefine their business operations with AI."
Some of the findings from the full report include the following.
Unattended automation surges in functions with high-volume transactional and routine work:

The COVID-19 pandemic and shift to remote work has accelerated the need for cost-cutting and agility across enterprises. This has intensified the adoption and scaling of automation especially in core business functions with high-volume transactional and routine work, such as finance and accounting, customer service, and IT.
Sixty percent of automation in enterprise is unattended. The trend is likely to continue as 50% of enterprises expect to accelerate automation.
Low-code platforms and as-a-service models are reducing infrastructure barriers to automation:

Enterprises are redesigning their business processes using AI and automation. Enterprises are empowering employees to build automation programs using low-code and smart workflow platforms to build and change applications faster.
Nearly 60%-70% of enterprises use some form of automation-as-a-service for development, management, and maintenance of automation programs​. This model offers the flexibility to scale with the surge in customer demand as well as reduce the investment cost and infrastructure barriers to automation.
Federated CoEs become the norm for enterprises scaling automation:

About 30% of automation implementations involve establishing automation CoEs which hasten scaling and embed intelligent automation more effectively.
The construct of a CoE may differ depending on factors such as the industry vertical and operating model. However, most organizations opt for a centralized CoE structure in the initial phase of their journey before moving to a federated model in the medium to long term.
"The enterprise demand for straight-through and touchless processing solutions has accelerated. This has further increased the opportunity for knowledge workers to focus on niche and exception management functions," said Avasant's Principal Analyst Chandrika Dutt. "Enterprises should support this transition by creating innovative job roles such as No-Code/Low-Code Visualizer, Bot Copywriter, and Empathy Trainer to gain a competitive advantage in the long run."
The full report also features detailed RadarView profiles of the 24 service providers, along with their solutions, offerings, and experience in assisting enterprises in their intelligent automation strategy.
---
This Research Byte is a brief overview of the Intelligent Automation Services 2020-2021 RadarView™ report (click for pricing).
---