With the future of work changing, the digital workplace has grown in importance. Responding to COVID-19, tens of thousands of companies around the world have adopted work-from-home policies. The trend toward telecommuting was already under way before the coronavirus hit, but the trend skyrocketed as the virus spread. In the wake of COVID-19, enterprises are now figuring out their digital workplace strategies and how to adapt to a hybrid workplace. As organizational priorities change, the digital workplace is getting reshaped, and enterprises are tending to move away from monolithic workplace environments.
These and other trends are covered in Avasant's new Digital Workplace Services 2020 RadarView™ report. The report provides a view into the changing dynamics at workplaces and highlights the importance of digital workplaces in the COVID-19 era. The report also underlines the role of service providers and lays out our view on the road ahead for the next 12 to 18 months. Returning to workplaces, even if in a limited way, and adopting hybrid ways of working will be the focus in the short to intermediate term.
Avasant evaluated more than 35 providers using three dimensions: Practice maturity, partnership ecosystem, and investment and innovation. Of the 35-plus providers, we recognize 26 as having brought the most value to the market over the past 12 months.
The report recognizes service providers in four categories:
Leaders: Accenture, Atos, Cognizant, DXC, HCL, IBM, TCS, and Wipro.
Innovators: Capgemini, Fujitsu, Infosys, NTT DATA, Tech Mahindra, and Unisys.
Disruptors: CGI, Hexaware, Insight, LTI, Stefanini, and Zensar.
Challengers: GAVS Tech, ITC Infotech, Microland, Mindtree, Mphasis, and UST Global.
These four categories are illustrated in Figure 1 from the full report: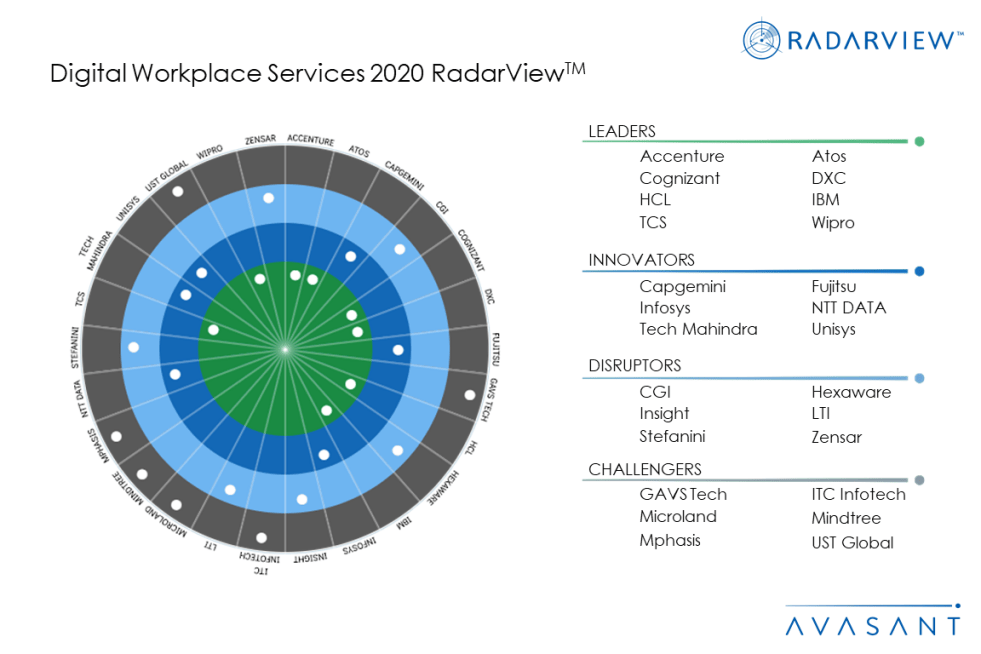 "Progressive companies that already embraced the idea of digital workplaces were able to respond better to the pandemic," said Avasant Research Leader Shwetank Saini. "Those who were behind the curve faced many challenges responding to these challenging times. As businesses gradually move forward, they need to evaluate where they are in the maturity curve. Focus should be on adopting cloud-based models, in conjunction with other technologies to enable better ways of working."
Some of the key findings from the report include:
Businesses should enable remote working in the short-term and long-term.
In the short-term, businesses need to focus on deploying cloud-based tools and technologies to enable remote working, followed by a return to offices, even if in a limited manner. Businesses will need to reconfigure their workplaces to maintain social distancing and the health and safety of their employees.
In the long-term, this means increasing the percentage of remote workers compared to the overall workforce, increasing temporary staff and contractors, and rethinking human resource policies.
User experience and productivity are at the center of new workplace designs.
Businesses are identifying user experience as a core enabler of workplace modernization. Service providers are productizing their offerings to cater to the evolving digital requirements of customers.
Workplace user profiling and digital-experience monitoring have become important as outcome-based models and experience level agreements (XLAs) gain traction.
Cloud as a strategic and foundational enabler of digital workplaces.
COVID-19 led to a surge in demand for cloud-based collaboration tools and e-commerce and consumer cloud services. High-speed secure infrastructure, hybrid cloud, and virtual workplace technologies are emerging as the top three technology spend areas, according to NASSCOM (India's National Association of Software and Service Companies).
Collaboration tools, web conferencing, and modern device management will see sustained growth in 2020-2021, fuelled by remote working, telehealth, remote learning, and virtual events.
A revamping of IT support services is needed in the era of remote work.
Adoption of as-a-service models, BYOD, and zero-touch deployments will require scaling up remote support capabilities leveraging artificial intelligence (AI), automation, self-help, and self-service. Enterprises need to adopt persona-based support services and focus on the user experience.
On-site support services such as walk-in desks and tech bars will be subdued for some time. As the use of Internet of Things (IoT) at workplaces is expedited post-COVID, on-site personnel can be re-skilled and redeployed.
The full report also features detailed RadarView profiles of the 26 digital workplace services providers, along with their solutions, offerings, and experience in assisting enterprises in digital transformation.
---
This Research Byte is a brief overview of the Digital Workplace Services 2020 RadarViewTM report. The full report is available at no charge for Avasant Research subscribers, or it may be purchased by non-subscribers directly from our website (click for pricing).
---