Voice over IP (VoIP) is rapidly increasing in popularity as business users are abandoning traditional telephone company services and hosting them on internal data networks. Among the major organizations that have made the switch are Bank of America and Ford Motor Co. In addition, falling prices for VoIP hardware and improvements in ease of installation and support are making these systems attractive even for small and midsize businesses, in a variety of new and interesting applications. VoIP users expect to recoup their investments by avoiding telco phone charges and by gaining efficiencies through the consolidation of their voice and data networks into a single entity.
Computer Economics foresees a significant rise in VoIP global revenues as a consequence of the trend toward deployment of this technology. Figure 1 provides our projections through 2008. We anticipate a six-fold increase in these revenues from $2 billion in 2005 to more than $12 billion in 2008.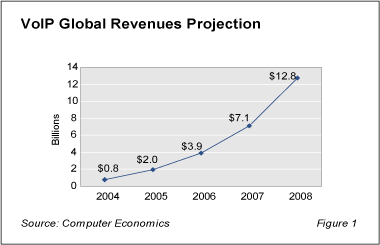 Organizations that understand the nature of VoIP can generally expect to receive more from their investment than those that simply jump into a series of what could be costly experiments. Most important is the realization that the VoIP network must provide a level of availability and voice quality comparable to that supplied by the telephone company.
The traditional telephone network has evolved over 120 years into a high-quality system that is extremely reliable. On average, the phone system is not available a mere six minutes per year. Furthermore, the quality of voice, especially over fiber optic networks, is clear and echoless. Matching these levels requires proper hardware and software selection along with continual oversight of the VoIP network.
The costs for a VoIP system are usually a significant budget item. Installing the system will require new network hardware and software, maintenance equipment, and a possible network infrastructure upgrade. Labor costs will include training for technical personnel, and it may also include the costs associated with hiring additional technicians that have expertise in operating and maintaining VoIP.
In return for these costs, organizations can anticipate payback from several sources. The avoidance of telco charges will be one expected by all VoIP users. The telcos, however, are pressuring regulators to replace revenues being lost to VoIP from their traditional business areas. Some licensing fees are likely to be forced on VoIP users as a consequence. The recent FCC decision to require VoIP providers to implement emergency 911 services is just one example of these new fees.
While the traditional telco providers are pressuring for more VoIP regulations in an effort to maintain control and to ensure their core revenues are not seriously eroded, they are also developing their own VoIP product offerings. Telco giants such as such as MCI, Qwest, and BellSouth are taking the position that VoIP is an opportunity not a threat.
For instance, BellSouth has been in the VoIP space for about four years, and its enterprise offerings include an IP-PBX as well as a managed service in which the network equipment is maintained at the customer site. Based on a fixed monthly charge, customers get local and long-distance calling, a desktop communications manager, and usual features such as follow-me calling, remote office, voicemail, and unified messaging. BellSouth has announced it will offer a new hosted VoIP service in 2006 which will include web-based conferencing services.
Despite any new regulatory costs that may be on the horizon, the consolidation of phone and data networks should provide most organizations with savings, both in terms of equipment and personnel costs. In new construction, only one set of wiring will be necessary, instead of the two required when the networks are separate. The simplicity of moving and adding phones to a VoIP network will be another cost-saver. If existing networks have spare capacity, VoIP becomes a means for utilizing this resource. Finally, VoIP facilitates combining email, fax, and voice mail into a unified messaging system to provide productivity savings for knowledge workers.
Clearly, VoIP has moved from the pioneering and early implementer stage of its life cycle into the mainstream user phase. Computer Economics expects that the overall costs of VoIP will remain very attractive, driving significant growth in this market.
___________________________________________________________________________________________
Information for this Research Byte was taken from our recent report on this subject entitled, VoIP Success Requires Proper Management. This report provides detailed information regarding implementation considerations and the current ROI and TCO of VoIP deployments. Clients can view this report for free, and non-clients can purchase it online via credit card, at https://avasant.com/report/voip-success-requires-careful-planning-2005/