ITC Infotech recognized as a Disruptor in Avasant's Intelligent Automation Services RadarView™ Report 2019 – 2020
Among endless service provider options, novel and disruptive mechanics in innovation brings recognition as a Disruptor for Intelligent Automation Services 2019-2020.
Read the Avasant report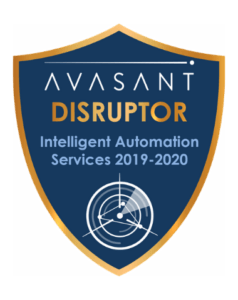 "

Expanding and leveraging its partner network to build joint solutions such as digital assistants. Focus on developing role-based automation solutions.

"
Learn More
AVASANT ANALYST INSIGHTS
Practice Maturity
The key focus of ITC Infotech is to help enterprises automate business functions which require a lot of manual effort, including supply chain, HR, IT, finance, and production, particularly in manufacturing, FMCG, and travel and hospitality.
In 2019, it established a partnership with Automation Anywhere through a shared service model. In the next 6 months, they plan to co-develop around 8,500 pre-configured, automated, personal digital bots/buddies for each ITC Infotech employee to support them in mundane tasks. This includes creating recruiter bots, IQ bots, etc.
By combining inputs from digital buddies and the tasks associated with a standard user persona, ITC Infotech aims to commercialize these digital personas across job roles (data engineers, financial analyst, recruiter, etc.), functions (finance, HR, supply chain, and IT), and industries (airlines –executive and treasury manager, FMCG – category manager and compliance manager).
To enable rapid deployment, it has created a reusable bot library with 120 domain-centric bots.
Investments & Innovation
ITC Infotech is developing joint go-to-market propositions with its key partner, Automation Anywhere, and some key ISVs (ServiceNow, SAP, PTC, and SharePoint). For instance, it has built ITSM automation solutions with ServiceNow.
It established a shared service/engineering center in collaboration with Automation Anywhere in Bangalore to develop joint automation solutions. This includes setting up a team to focus on core engineering products and build prototypes to explore new automation scenarios. Also, it is developing bots with cognitive intelligence and reporting capabilities, which are expected to be launched in the next 12-18 months.
It identified over 700 industry-specific innovative application areas and use cases, especially in the airlines and FMCG sectors.
Industry Development
ITC Infotech leverages its innovation lab to explore new industry processes for automation. The lab includes team of 70-80 experts dedicated to identifying new use cases for automation implementations. For instance, it is defining the cognitive roadmap for frictionless check-out procedures at hotels using facial recognition, analytics, etc.
It published innovative thought leadership content regarding the feasibility of new automation applications across industries. Some of the key themes include building connected customer experiences for the hospitality industry and the future of corporate finance through automation.
DISCLAIMER:
This graphic was published by Avasant LLC as part of a larger research document and should be evaluated in the context of the entire document. The document is available upon request from Avasant website. Avasant does not endorse any provider, product or service depicted in its research publications, including RadarViewTM, and does not advise users to select only those providers recognized in these publications. Avasant's research publications are based on information from best available sources and Avasant's opinion at the time of publication, and their contents should not be construed as statements of fact. Avasant disclaims all warranties, expressed or implied, with respect to this research, including and warranties of merchantability or fitness for a particular purpose.