Avasant has unveiled its pioneering RadarView™ market assessment for Cybersecurity Services. The Cybersecurity Services 2019 RadarView™ report covers the top 28 service providers that have shown mature capabilities, future-aligned investments and innovations, and consistent growth in their Cybersecurity offerings. The report recognizes the top service providers as follows: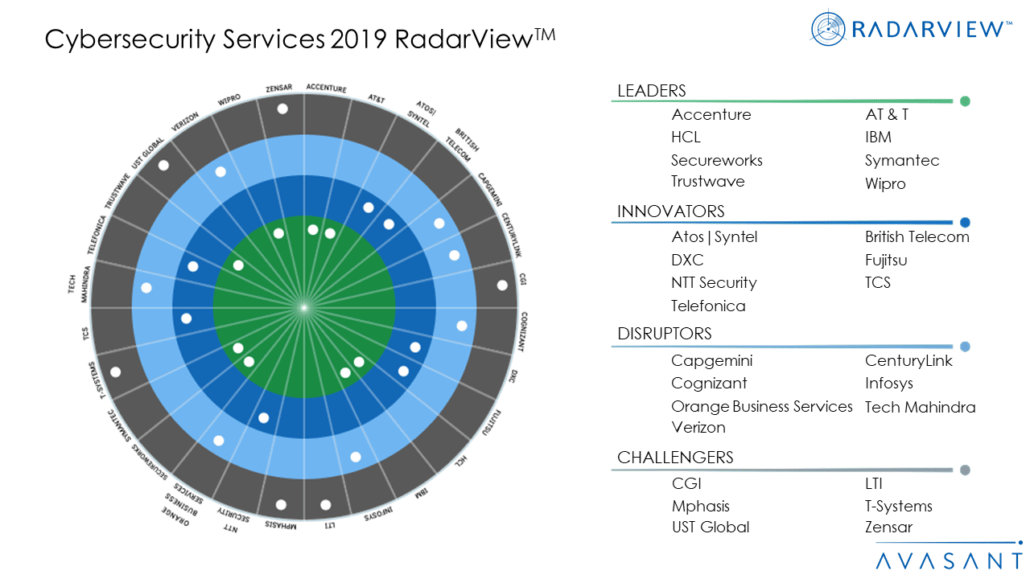 Leaders: Accenture, AT&T, HCL, IBM, Secureworks, Symantec, Trustwave, Wipro
Innovators: Atos|Syntel, British Telecom, DXC, Fujitsu, NTT Security, TCS, Telefonica
Disruptors: Capgemini, CenturyLink, Cognizant, Infosys, Orange Business Services, Tech Mahindra, Verizon
Challengers: CGI, LTI, Mphasis, T-Systems, UST Global, Zensar
Key research findings include:
– Though Healthcare and BFSI industries constitute 50% of the cybersecurity services revenue, Manufacturing is fast emerging as a high-risk industry for breaches and attacks with the rapid growth in industrial IoT devices and Industry 4.0 initiatives.
– Enterprises are changing the way they identify, select and engage with third party outsourcers, with security criteria being core in the provider evaluation.
– It is imperative for enterprises to have an independent second line of defense (Enterprise Risk Management team) that reviews and checks the first line (Core Information Security team), and involve financial controller and HR for effective security posture.
– It is critical to elevate CISO up in the corporate ladder and directly report to the board, and involve at the beginning of business projects which ensures they are delivered securely for launch, hence mitigate reputation damage and financial loss.
– Cyber insurance premiums written have increased by 50% from 2015 to 2017 and expected to touch USD 10B in next 3 to 5 years, owing to increase in number of cyber data breaches and the transition to cloud-based services.