The hybrid workplace has made significant strides since its inception in 2020, with the 2–3-day work-from-home model being widely accepted. Enterprises are dedicated to enhancing employee experience through outcome-based engagements with service providers and experience-level agreements (XLAs) by leveraging emerging technologies such as AI/ML, analytics, IoT, and automation; creating new possibilities in the workplace; and fostering increased collaboration, productivity, and employee satisfaction.
These trends, among others, are covered in our Digital Workplace Services 2023 RadarView™ and Digital Workplace Services 2023 Market Insights™. The reports offer a comprehensive study of digital workplace services providers, including top trends, analysis, and recommendations. We also take a close look at the market leaders, innovators, disruptors, and challengers.
We evaluated over 47 service providers across three dimensions: practice maturity, partner ecosystem, and investments and innovation. Of the over 47 providers, we recognized 26 that brought the most value to the market during the past 12 months.
The reports recognize service providers in four categories:
Leaders: Accenture, Capgemini, Cognizant, HCLTech, Infosys, TCS, Unisys, and Wipro
Innovators: Atos, Computacenter, DXC, Kyndryl, LTIMindtree, NTT DATA, Tech Mahindra, and Zensar
Disruptors: CompuCom, Fujitsu, ITC Infotech, Orange Business, and Stefanini
Challengers: Birlasoft, CGI, Mphasis, UST, and Zones
Figure 1 from the full report illustrates these categories: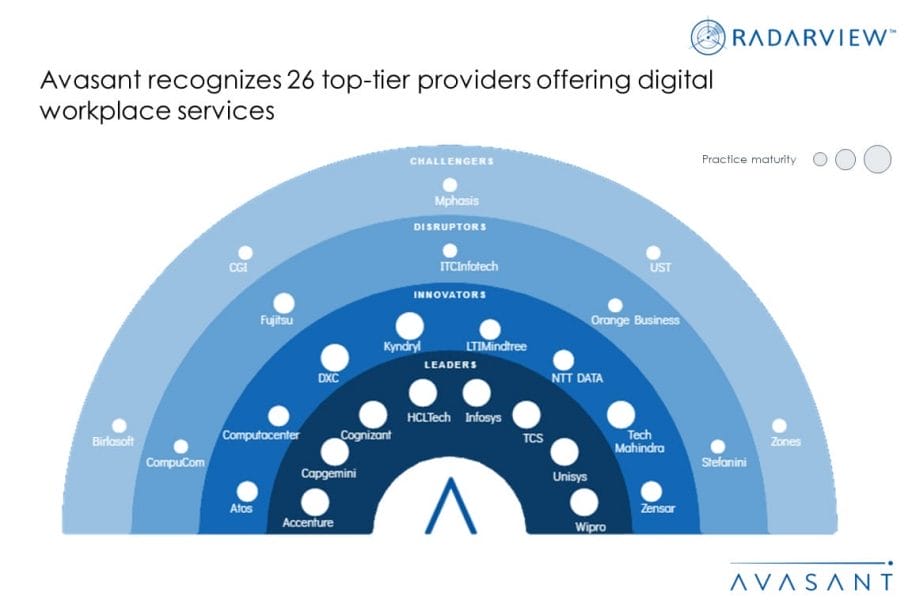 "To succeed with hybrid work, organizations must choose and implement appropriate cloud-based solutions and strategies for digital workplaces," said Avasant Fellow Fred Pond. "When implementing these solutions, it is crucial to remove complexities in digital workplace solutions portfolio, consolidate vendors, and leverage personalization."
The reports provide several findings, including the following:
With 45% of the enterprises allowing up to 40% of the workforce WFH/WFA options, 2022 saw an increase in the remote work trend. In 2023, however, the trend is likely to grow, with 64% of the companies favoring the 2–3-day work-from-office model.
The digital workplace services market has matured, with an 85% adoption rate and a 50% investment rate in 2023. This was enabled by service providers witnessing a 15.4% YOY growth in revenue in 2023.
Enterprises are experimenting with generative AI to redefine the digital workplace service to enhance workplace collaboration, experience, sustainability, and security.
Enterprises proactively implement sustainability initiatives to align their workplace objectives and business goals with environmental, social, and governance (ESG) best practices.
"With the acceptance of hybrid work, balancing security and remote employee experience remains one of the major concerns for enterprises," said Shwetank Saini, associate research director at Avasant. "To address this, organizations must develop a responsive IT security strategy for a scalable hybrid workplace."
The RadarView also features detailed profiles of the 26 service providers, along with their solutions, offerings, and experience in enabling workplace transformation.
---
This Research Byte is a brief overview of the Digital Workplace Services 2023 RadarView™ and Digital Workplace Services 2023 Market Insights™ (click for pricing).
---