Enterprise architecture is an IT best practice that provides a high-level description of the organization in its desired state. But despite the benefits of this approach, enterprise architecture remains only moderately adopted.
As shown in Figure 2 from our full report, Enterprise Architecture Adoption and Best Practices, only 53% of IT organizations practice enterprise architecture. This is down from 59% in 2015, but still ahead of other recent years.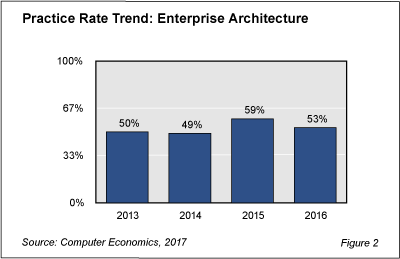 There are several competing and complementary definitions for enterprise architecture. However, as the name implies, enterprise architecture essentially is a high-level description of the "architecture" of an organization in a future state. It typically includes a number of views, such as the organization's objectives and strategy, operational units, organizational structure, business processes, and data model. As such, implementing an enterprise architecture practice guides IT decision-makers in evolving their IT infrastructures and systems in a long-term strategic way. This improves integration, promotes agility, optimizes business processes, and imposes structure on the development of the infrastructure, systems, and IT capabilities.
Enterprise architecture has been around since the 1980s, but as the data collected in our IT Management Best Practices study shows, it has a long way to go before it is widely adopted. "Adoption requires business and IT leaders to agree on an enterprise architecture that aligns strategy with the IT infrastructure and capabilities," said Tom Dunlap, research director for Computer Economics, an IT research firm based in Irvine, Calif. "And that type of agreement can often be difficult to accomplish or maintain over time. While growth is possible, widespread adoption is probably a long way off."
In the full study, we will examine how many organizations have adopted enterprise architecture, how many adopters have fully embraced the practice, and how many organizations are likely to adopt it in the future. We conclude with an assessment of the various approaches to enterprise architecture and recommendations on best practices. The rating is based on a comparison of the adoption of this practice with the 32 others in our annual major study, IT Management Best Practices.
---
This Research Byte is a brief overview of our report on this subject, Enterprise Architecture Adoption and Best Practices. The full report is available at no charge for Computer Economics clients, or it may be purchased by non-clients directly from our website (click for pricing).