Takeaways from Rackspace Technology Analyst Day 2020, November 22, 2020
Over the last 12 months, there has been a sustained increase in adoption of hybrid cloud strategies designed to enable digital transformation. During a recent analyst day, Rackspace Technology, announced offerings designed to best govern the hybrid cloud.
Hybrid cloud enables IT transformation
Hybrid cloud and multi-cloud systems are enabling emerging digital technologies. Technologies such as the internet of things (IoT), artificial intelligence (AI), and advanced analytics, require access to data across the entire infrastructure. In such scenarios, hybrid and multi-cloud environments, while more complex, are the best way to ensure that data is securely and quickly available.
Several vendors and providers are introducing products and services to help enterprises manage hybrid and multi-cloud environments. With a new CEO in place, as of April 2019, and having recently gone public, Rackspace Technology has positioned itself as an end-to-end multicloud technology services company that can design, build and operate cloud environments across all major technology platforms, irrespective of technology stack or deployment model.
During the recently concluded Analyst Day 2020, Kevin Jones, CEO, Rackspace Technology, shared that the company has re-organized its solutions and offerings under four categories: multi-cloud, applications, data, and security. This includes starting with advisory and assessment, followed by design and build technical environments, and continuing to manage and optimize workloads over the long term.
Customers are looking for partners who can help them manage the entire cloud lifecycle as shown in figure 1. Companies that can demonstrate the capability to develop a robust hybrid infrastructure, help choose the right environment, and move workloads around as business needs and technologies change will have a strategic advantage over more specialized providers.
Rackspace Technology is focusing on three areas to meet these needs:
Focusing on the hybrid/multi-cloud approach
Reimagining business models using data and AI/ML
Creating business value through fast and secure connectivity, particularly with IoT
Focusing on the hybrid/multi-cloud approach
Hybrid cloud and multi-cloud IT environments are the most common cloud deployment strategies for enterprises, as per Avasant's Cloud Platforms 2020 RadarView™ report released in July 2020.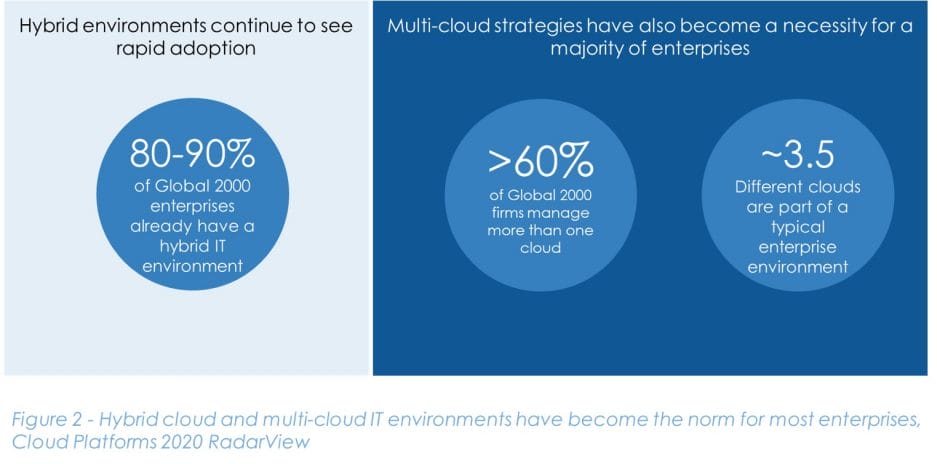 The cloud environment can quickly become complicated as business units, working in silos, adopt cloud tools/platforms based on their business needs. Optimizing management of complex, cloud-centric environments, both in terms of application performance and overall cost, has become the next challenge for IT organizations.
Tolga Tarhan, Chief Technology Officer, Rackspace Technology, announced a new model for managed services, Service Blocks 2.0, to help customers manage and optimize their cloud environment. This includes ongoing cloud governance, platform-level support, engineering services, managed platforms, and security managed services.
He also announced cloud-native security for the public cloud environment. This offering allows customers to add SOC and leverage native security tools already available from the hyperscalers.
Rackspace Technology has invested in building out partnerships with major cloud players. It claims to have 2,500 cloud-certified professionals, with over 2,700 Amazon Web Services ("AWS") certifications, over 1,000 Google Cloud certifications, over 700 Microsoft Azure ("Azure") certifications and over 400 VMware certifications as of May 2020.
There were quite a few announcements in the private cloud space around the innovations planned for next year. Jeff DeVerter, VP Technology Strategy, Rackspace Technology, announced increased focus towards hybrid cloud, including support for hyperscalers' private/hybrid cloud products such as Azure Stack, Google Anthos, AWS Outposts, and VMware stack. This strategy brings hyperscale cloud into Rackspace data centers. He also announced a focus on cloud-native technologies such as containers and serverless to the private cloud. This includes offerings such as fully-managed Kubernetes and serverless applications powered by knative.
Major hyperscalers such as AWS, Microsoft Azure, and Google have come out with private cloud carveouts in public environments such as VMware Cloud (VMC) on AWS, Azure VMware Solution (AVS), and Google's SAP, Oracle, and Bare Metal solutions. Also, hyperscalers are offering private cloud extensions, including Azure Stack, AWS Outposts, and Google Anthos. This kind of hybrid setup allows customers to use hyperscalers services (like compute and storage) from their own datacenters without rewriting any code, thus easing the transition to the cloud, especially for the highly regulated industries.
Reimagining business models using data and AI/ML
The pandemic has led to an increased enterprise focus on AI/ML apps to optimize operations, evaluate investments, and reimagine business models. All major hyperscalers that were already investing in AI/ML services have seen increased adoption. These include end-to-end machine learning services, involving data processing, feature engineering, model training, and model prediction, and an extensive array of algorithms and models that are updated regularly.
Rackspace Technology announced it was focused on advancing automation by leveraging AI/ML technologies to make private clouds operate more like public clouds. Thus, introducing automated and DevOps-enabled workloads, including APIs.
Owen Powell, ICT Director, Central, and North West London, NHS Foundation Trust, shared his experience of how effective it was for his organization to navigate the pandemic with Rackspace Technology. About a year back, it had built a cloud infrastructure with Rackspace Technology that hosts around 200 TB of data and 130 critical health applications.
"We reorganized the whole operations in two weeks, developed new services from scratch, adopted video conferencing internally and with our service users, mixed admin, and clinical teams to get the best of value. We have seen significant improvement in productivity and service delivery. We did a three years transformation in three months," Powell said.
With an aim to offer manages services focused on data lifecycle management in a multi-cloud environment, Nihar Gupta, Sr. Director, Data Solutions, Rackspace Technology, announced two new solutions, Rackspace DataOps and Rackspace MLOps.
DataOps streamlines data from edge to core and enhances data pipelines, data management with automation and enriching capabilities for data governance to accelerate data-driven innovations across industries. While MLOps complements it to automate, scale and govern machine learning pipelines to empower next-generation applications. Applying the DataOps approach to processes, tools and people is imperative where data flows from multiple sources, including IoT sensors, multimedia, social media feeds, and enterprise systems.
Creating business value through fast and secure connectivity
IoT, as a key enabler of Industry 4.0 movement, optimizes workflows and processes in the manufacturing industry. According to Avasant's Internet of Things Services 2020 RadarView™, manufacturing continues to lead in IoT adoption. However, the public sector has also doubled the IoT adoption over the last 12 months by leveraging IoT in undertaking smart city initiatives such as smart street lighting, smart waste management, smart traffic control, and smart air quality control.
Rackspace Technology helps build end-to-end IoT applications, from strategy to designing hardware to the applications and cloud platforms. And, all these are performed cloud-natively, using the services of the hyperscalers coupled with serverless technologies. Use cases include smart buildings, connected medical devices, fleet, and cargo tracking, and smart metering.
Rackspace Technology has developed solutions to enable close to a million connected devices:
450k devices for transportation and logistics, solving use cases like fleet tracking and cargo status
280k devices for smart building, for use cases such as smart thermostats and connected doors
227k devices for other industry verticals, including healthcare, consumer products, and energy and utilities
It plans further investment in this space, and Rackspace Technology, announced three new IoT solutions for 2021:
Intelligent Vision platform – to bring IoT, machine vision capabilities to its customers. It includes GPU-enabled edge devices and MLOps to offer a single platform to address multiple use cases across verticals
Real-time Location Services (RTLS) – enabling users to track people and things through a single piece of hardware
Industrial IoT (IIoT) – to drive standardization and plug and play feature to connect any device to any cloud
Telecom providers such as Verizon, AT&T, and Vodafone are actively collaborating with cloud providers for 5G edge innovation. The combined capabilities of telecom and cloud providers will enable enterprises to speed up data communications and processing by building ultra-low latency 5G edge solutions, thus enhancing experiences and optimizing the decision-making process.
Conclusion
As the cloud space is getting increasingly competitive, providers are improving their service offerings across the cloud transformation lifecycle – assessment, design, build, and run.
Avasant recommends enterprises assess cloud platform providers across the following four dimensions:
Performance against future workloads: Look beyond the immediate workload requirement and assess based on future expectations. Performance metrics differ from cloud to cloud, based on the nature of workloads.
Openness to the multi-cloud paradigm: Favor cloud platforms that embrace multi-cloud. This will help future-proof your IT environment through connectors and collaboration tools.
Investment in compliance: Choose cloud platforms that adjust and adapt to the ever evolving regulatory requirements of your region and taken a verticalized approach with built-in compliance ready solutions. Continuously updating security requirements is table stakes for cloud platform providers.
Better commercial terms and conditions: Do not be swayed by price-war induced immediate discounts. Evaluate long-term costs and identify the commercial terms and conditions that can lead to long-term optimization.
Being the early entrants in the cloud space, offering its cloud platform in 2006, Rackspace Technology has come a long way. Over the years, it has transformed from colocation, a managed hosting services provider, to a full-service technology provider by collaborating with major hyperscalers, including AWS, Microsoft Azure, and Google Cloud. It strengthened its multi and hybrid cloud portfolio and launched major upgrades to its cloud portfolio, including Managed VMware Cloud on AWS, Advanced Kubernetes and container services, and Rackspace Managed Security (RMS) service blocks.
With its new branding, mission statement, and the series of launches announced during Analyst Day 2020, we see a renewed organization driving the change and being future-ready by investing in the right areas, including hybrid cloud, data, AI, IoT, and security.
---
Analysis by Gaurav Dewan, Associate Research Director at Avasant.
---