For the most part, IT organizations continue on a path of steady but modest growth in operational budgets, while capital budgets and hiring are essentially flat, according to the Computer Economics annual IT Spending and Staffing Benchmarks study for 2018/2019. However, midsize organizations are leading the way with a much stronger 5% increase in IT operational budgets for the coming year.
As shown in Figure 1-3 from the free executive summary, large organizations are increasing their operational budgets at 3.3%, while small organizations lag behind at 1.0%. This is the second year running that small organizations have had notably smaller IT budget increases and less hiring. Midsize organizations have recently been outpacing both their smaller and larger counterparts. Large organizations have been increasing their investments in IT at rates only slightly higher than inflation for several years running, while small organizations are not even keeping up with inflation.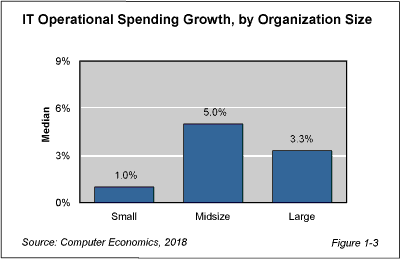 "But the story for small companies may not be that bad," said David Wagner, vice president, research, at Computer Economics, based in Irvine, Calif. "Nearly all companies in our survey are in the midst of the transition to the cloud, automation, and other technologies aimed at reducing infrastructure burden. Larger companies tend to have more legacy systems than smaller companies, forcing them to spend more to transform their organizations. Smaller organizations may simply be seeing the cost efficiencies from this new technology sooner."
Computer Economics has been saying in recent years that the cloud might hold back major IT budget increases, because efficiencies would allow for IT productivity gains with only modest IT budget growth. But it appears midsize companies more willing to open their wallets beyond what they gain through those efficiencies. Increased budgets at midsize companies seem to be aimed more toward business transformation, replacing legacy systems, and implementing new technologies. Company size seems to be major determining factor on how exactly organizations are handling the cloud transition.
The increased IT spending from larger companies partially explains another big change from last year, which is this: IT spending as a percentage of revenue among organizations of all sizes rose from 2.3% in 2017 to 2.7% in 2018. This is somewhat unexpected and does not fit entirely with last year's predictions of rather modest growth. Often this number increases most when the economy is poor and revenues are down. However, revenue growth is strong, making the number especially noteworthy. One explanation is that companies feel positive about the future and like what they are seeing from their cloud and business transformation efforts to date. However, as we said, the increases are not across the board. Most small companies are barely increasing IT spending as a percentage of revenue.
Where is new IT spending focused this year? The survey shows that IT executives are investing more of their budgets in security/privacy and cloud-based business applications. Cloud infrastructure investments are also coming on strong as an area of investment. Data center spending is not much of a priority at all, as IT organizations shift some of their workload off-premises and increase efficiency for what remains in the data center with virtualization and automation.
The bottom line is that despite the fact that there are some differences based on company size, all companies seem to be on the same path toward the cloud. They are simply at different points in the journey.
We expect that in the long run, IT spending as a percentage of revenue for the composite sample will flatten or even decline slightly to its historical level of 2.0% to 2.5% as organizations realize further economic benefits from cloud systems. For now, the strong economy is giving companies the confidence to accelerate their efforts toward business transformation. This should not only lead to cost savings in the near term but also provide companies with the flexibility to better respond to future economic uncertainty.
The Computer Economics IT Spending and Staffing Benchmarks 2018/2019 study is based on a detailed survey of more than 200 IT executives in the U.S. and Canada on their IT spending and staffing plans for 2018/2019. It provides IT spending and staffing benchmarks for small, midsize, and large organizations and for 27 sectors and subsectors. A description of the study's metrics, design, demographics, and methodology can be found in the free executive summary.
---
This Research Byte is a brief overview of the findings in our report, IT Spending and Staffing Benchmarks 2018/20189. The full 30-chapter report is available at no charge for Computer Economics clients. Individual chapters may be purchased by non-clients directly from our website (click for pricing).