In IT organizations, quality assurance (QA) is a well-established and vital function, but its nature is changing. Nearly all companies have abandoned the traditional waterfall development model for agile, scrum, and other iterative software models. Many of these new methods subsume the standalone QA function directly into the development and maintenance staff. In other words, QA is still as important as ever. But QA as a distinct IT job is shrinking as a percentage of total IT staff, and we expect that trend to continue.
Among all organizations that staff the position, the ratio of QA staff to total IT staff is currently 2.4% at the median, a substantial decrease from 3.5% the prior year, as shown in Figure 1 from our study, IT Quality Assurance Staffing Ratios. The ratio has fluctuated significantly in recent years, and at least some of that fluctuation has to do with the changing nature of the role.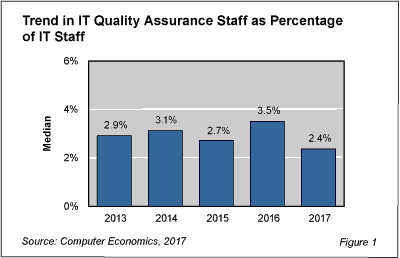 "When someone with a developer title spends most of the day developing code, but part of their day testing and debugging control, they can be difficult to classify," said David Wagner, vice president of research for Computer Economics, based in Irvine, Calif. "Some companies, like Microsoft and Yahoo, have very publically laid off large parts of the QA and testing staff. But the need for QA doesn't go away."
Though the QA staffing ratio may be declining, in a very real sense the QA role is becoming more strategic. Quality assurance staff can now focus on establishing QA requirements early in the development cycle, coordinating user acceptance testing, and ensuring compliance. But the changing face of QA makes it difficult to properly staff this role. This report can help managers determine the appropriate staffing level for this function.
The IT quality assurance mission is to provide managers with independently determined visibility into all processes, status, and quality of software development and upgrade projects, and to maintain the quality level of those products over their life cycle. Quality assurance personnel review, test, record, and audit software products to verify and validate their compliance with the standards and procedures the organization has established to ensure software and system quality.
In the full study, we provide three benchmarks to help IT managers determine the appropriate staffing level for this function. They include QA staff as a percentage of the IT staff, QA staff as a percentage of the Application Group, and applications per QA staff member. The benchmarks are provided by organization size and sector. We conclude with recommendations for improving the effectiveness of the quality assurance function within the IT organization.
---
This Research Byte is a brief overview of our report on this subject, IT Quality Assurance Staffing Ratios. The full report is available at no charge for Computer Economics clients, or it may be purchased by non-clients directly from our website (click for pricing).
Do you also need staffing ratios for other IT job functions? Consider this collection of all of our staffing ratio reports, which bundles them all into a single report at a significant discount: IT Staffing Ratios–Special Report Bundle.