This year, small companies in the U.S. and Canada are joining their larger brethren and increasing their IT operational budgets at a higher rate than at any time in the cloud era. Unlike last year, when small organizations mostly sat on the sidelines while midsize and large companies showed healthy operational budget growth, small companies in 2019 are leading the way with operational budget increases. For the most part, IT organizations continue on a path of steady but modest growth in operational budgets, while capital budgets and hiring are essentially flat, according to the Computer Economics annual IT Spending and Staffing Benchmarks study for 2019/2020. There is broad operational growth across companies of all sizes as they continue along the path to the cloud transformation.
As shown in Figure 1-3 from the free executive summary, small organizations are increasing their operational budgets at a rate of 3.5%, large organizations are increasing operational budgets 3.2%, and midsize companies are just slightly behind at 3.0%. After two years where small organizations sat on the sidelines while larger companies grew their IT budgets above the rate of inflation, small companies are setting the pace this year.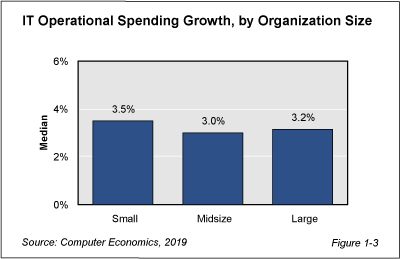 In recent years, Computer Economics has reported that small increases in IT budgets, especially at small companies that tend to have fewer legacy systems, have been a harbinger of the success of the cloud in making IT more efficient and not a sign of economic uncertainty. The argument was that companies could do more with less because of economic gains realized by using cloud systems. Small companies are already leaders in the use of cloud, and it appears that they are now willing to supplement those efficiency gains by spending modestly more on IT.
"The cloud transformation has a long way to go," said David Wagner, vice president, research, at Computer Economics, based in Irvine, Calif. "Even among small companies, who lead the way in cloud adoption, only slightly more than a third (38%) of companies have deployed even half of their application portfolio in the cloud. Use of cloud infrastructure is even less. Companies of all sizes are now actively seeking to accelerate cloud adoption."
Where is new IT spending focused this year? Consistent with the acceleration of cloud adoption, a net 80% of companies of all sizes plan to increase spending on cloud applications this year. Cloud infrastructure investments are also coming on strong as an area of investment. A net 61% of companies are increasing spending on cloud infrastructure. At the other end of the spectrum, data center spending is not much of a priority at all, as IT organizations shift some of their workload off-premises and increase efficiency for what remains in the data center with virtualization and automation. Only a net 1% of companies are increasing spending in this area. This means that nearly as many companies are decreasing data center spending as are increasing it.
Although there are some differences based on company size, nearly all companies are racing headlong down the same path toward the cloud. They are simply at different points in the journey. The strong economy is giving companies the confidence to accelerate their efforts. This should not only lead to cost savings in the near term but truly transform IT organizations. Truthfully, we have still just scratched the surface.
The Computer Economics IT Spending and Staffing Benchmarks 2019/2020 study is based on a detailed survey of more than 230 IT executives in the U.S. and Canada on their IT spending and staffing plans for 2019/2020. It provides IT spending and staffing benchmarks for small, midsize, and large organizations and for 28 sectors and subsectors. A description of the study's metrics, design, demographics, and methodology can be found in the free executive summary.
---
This Research Byte is a brief overview of the findings in our report, IT Spending and Staffing Benchmarks 2019/2020. The full 31-chapter report is available at no charge for Computer Economics clients. Individual chapters may be purchased by non-clients directly from our website (click for pricing).