Enterprises are replacing their discrete HR solutions with a unified people management platform as it helps address multiple business challenges such as workflow redundancy, data visibility issues, and process inefficiencies. Organizations leverage digital tools and accelerators with modular designs to accelerate their transition to SAP SuccessFactors and address additional use cases such as automated data migration, compliance management, and industry-specific workflow creation. Additionally, enterprises focus on improving scalability and offering employee self-service options. Companies leverage automation solutions and interactive design interfaces to optimize HR functions and improve user adoption.
Both demand-side and supply-side trends are covered in our SAP SuccessFactors Services 2023 Market Insights™ and SAP SuccessFactors Services 2023 RadarView™, respectively. These reports present a comprehensive study of SAP SuccessFactors service providers and closely examine market leaders, innovators, disruptors, and challengers.
We evaluated 26 service providers across three dimensions: practice maturity, partner ecosystem, and investments and innovation. Of the 26 providers, we recognized 17 that brought the most value to the market over the past 12 months.
The report recognizes service providers in four categories:
Leaders: Accenture, Capgemini, Deloitte, IBM, Infosys, and Wipro
Innovators: Birlasoft, HCLTech, and LTIMindtree
Disruptors: Alight, NTT DATA, Tech Mahindra, and Veritas Prime
Challengers: Atos, Effective People, HR Path, and The Silicon Partners
Figure 1 below from the full report illustrates these categories: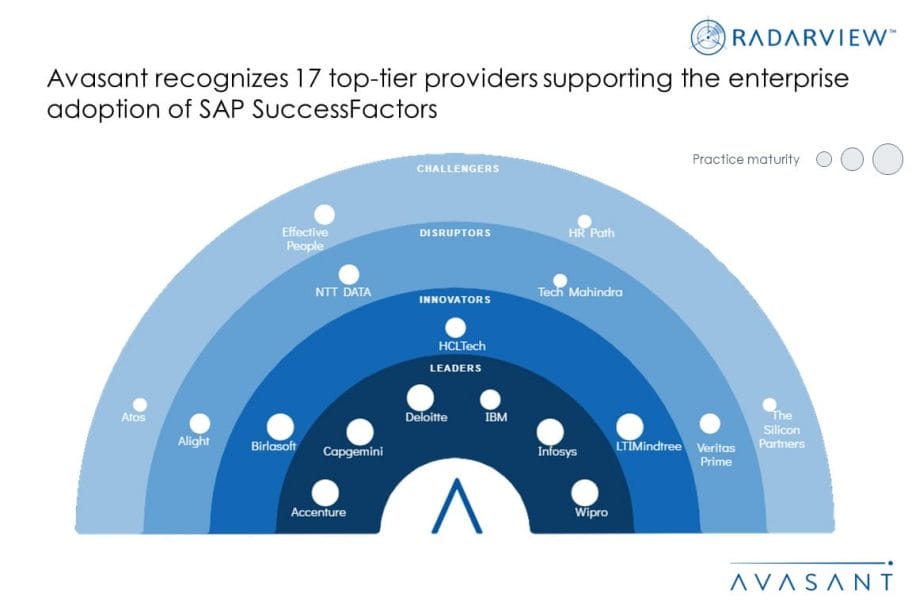 "Employee engagement is too important to leave to the HR department alone," said Frank Scavo, senior partner at Avasant. "Modern HCM systems such as SAP SuccessFactors are good at integrating people-related processes across the organization."
The reports provide several findings, including the following:
The need for implementing a unified people management platform led to a nearly 22% rise in the demand for SAP SuccessFactors service in 2022. Enterprises are also leveraging SAP SuccessFactors to standardize HR processes, reduce costs, and enhance system integration.
Over 52% of the demand for SAP SuccessFactors services comes from manufacturing, retail, and utility industries to solve multiple use cases such as automation of HR processes, enhanced employee engagement, and improved decision-making.
SAP SuccessFactors service providers take multiple measures, such as developing preconfigured solutions, automating data migration, offering shared resources engagement models, and deploying AI-based self-help tools, to enable enterprises to optimize the cost of transformation.
Upskilling resources in multiple SAP SuccessFactors modules and developing proprietary assets to support enterprise adoption are the key focus areas for service providers, accounting for nearly 56% of the investment budget.
"An important element in adopting HR best practices is the implementation of a modern HCM system such as SAP SuccessFactors," said Premal Shah, lead research analyst with Avasant. "It ensures visibility of the global workforce and improves efficiency across the entire workforce."
The RadarView report also features detailed RadarView profiles of 17 service providers, along with their solutions, offerings, and experience in assisting enterprises in their SAP SuccessFactors adoption journeys.
---
This Research Byte is a brief overview of the SAP SuccessFactors Services 2023 Market Insights™ and SAP SuccessFactors Services 2023 RadarView™. (click for pricing).
---