These are very interesting times for the Utilities sector. The business model, which has served the industry and their customers so well in the last fifty years or more, now seems at risk in the long run, especially in developed economies. With unprecedented technology shifts, new regulations and evolving customer expectations, the utilities players need to re-package their services and introduce changes to their existing processes to keep up with the rapidly changing environment. Utilities today face some large-scale market changing dynamics:
• Cost of new capacity is significantly higher today due to the higher average investment for electricity generation. Utilities are dealing with significant reinvestment for upgrade and repairs on the existing ageing infrastructure as well as implementing new age infrastructure such as the Smart Grid, smart metering and associated technologies.
• Operational and technology advancements such as distributed generation and Smart Grid technologies are forcing utilities players to re-think their traditional operating models and adapt very quickly to ground realities. Increasingly, companies are moving to smaller, localized generation stations enabled with new technologies to improve grid and network operations. According to a survey of 433 U.S. electric utility executives conducted by Utility Dive, the majority of respondents (31 percent) said that distributed energy resources which were long seen as a threat could become the biggest driver of industry growth.
• Customer Needs and Experience: Smart metering and smart grids are providing customers with greater control over the amount and timing of energy usage. Although this increased control has the potential to drive down peak demand and demand overall, it is also an opportunity for providers to better understand the consumer needs. The intelligence and data collected from smart metering techniques can be used to devise new products and services to satisfy the changing demands. As per a recent report on the Future Strategic directions of the utilities industry, 64.5 % of the utilities surveyed are implementing smart grid technologies.
• Increasing regulation and its aftermath is probably the greatest uncertainty that the industry is currently facing. The increased focus on the environmentally friendly energy sources and a focus on reduction in greenhouse gas emissions/ carbon footprint is driving the demand for the next wave of investments.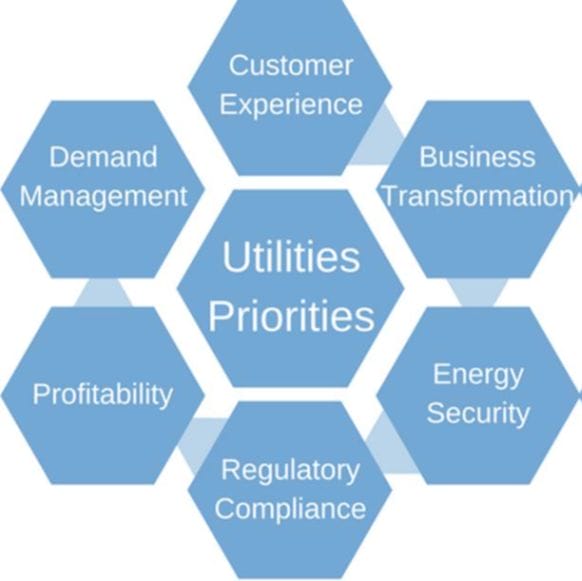 With an eye on the future, digital transformation offers Utilities the opportunity to be more efficient, responsive and innovative in delivering services. Digital transformation also provides improved customer engagement on mobile, social and web interfaces. This enables better two-way communications that lead to customized rate plans, products and services based on customer usage, resulting in improved data management and analytics leading to higher operational efficiencies in generation, transmission, and distribution. The industry is likely to witness a significant transformation which will eventually serve the best interest of both the consumer and the Utilities industry.
---
About the Author
Robert Joslin leads Avasant's Energy and Utility practice and has over 30 years of experience in Information Technology, IT sourcing and Business Process sourcing. For the last 19 years, he has been providing advisory services for many Global Fortune 1000 companies.
---