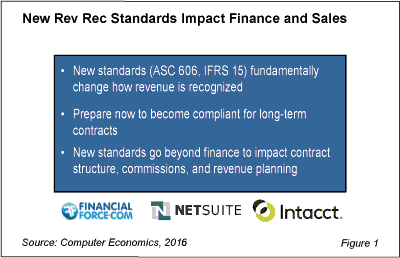 Enterprises need to start planning for two significant new revenue recognition accounting standards that may seem far in the future but in fact may affect multiyear contracts that companies write today.
ERP vendors are trying to put the spotlight on the complex "rev rec" standards, updates ASC 606 and IFRS 15, the most sweeping changes in a decade. Starting in 2018 for public companies and 2019 for private companies, the new guidelines will require companies to reallocate revenue each time a customer contract changes and to defer expense recognition to align with the contract's delivery. As a result, contract add-ons and renewals must be integrated into a single contract, forcing continuous revisions and expense alignment.
The new standards cut a wide swath through standard accounting practices and prompt many questions, such as: how do you structure contracts, how do you invoice, how do you recognize revenue, how do you track infrastructure expenses?
ASC 606 is eliminating standard norms of accounting practice, and its persuasiveness is unparalleled, said Dan Noll, director of accounting standards for The American Institute of CPAs (AICPA), during a panel discussion at Salesforce's Dreamforce conference in San Francisco. The year 2018 may seem far away, "but you have to get going now … healthy fear is what we're trying to promote," Noll said.
Moreover, the fact that the standards don't kick in until 2018 or 2019 is misleading, because companies may write multiyear contracts today, or have currently active long-term contracts, that will be affected by the new standards.
While accountants try to wrap their heads around the guidelines, competition has increased among ERP vendors that specialize in financial matters. In this Research Byte, we examine the latest announcements for rev rec compliance by three cloud system providers: Intacct, FinancialForce, and NetSuite.
Intacct: Contract Billing for CRM
In early May, Intacct rolled out what it claims is the industry's first automated solution to help companies navigate the complexity of the new guidelines. Intacct Contract and Revenue Management is a module for Intacct's cloud ERP solution that it says addresses the upcoming rules using automation, not spreadsheets. The solution provides out-of-the-box functionality that reduces dependence on IT resources and doesn't require complicated scripting, according to Intacct.
"When it comes to ASC 606 compliance, I think we are definitely out ahead of (our competitors)," Peter Olson, director of Intacct Corporate Communications, said at Dreamforce.
Most recently at Dreamforce, Intacct announced the launch of Intacct Contract Billing for CRM. Delivered through native, built-in connectivity between Intacct ERP applications and Salesforce CRM, the new module helps eliminate the need to deploy third-party integration software that connects ERP and CRM processes.
FinancialForce: Native Integration with Salesforce
FinancialForce, which bills itself as the leading revenue management application on the Salesforce Platform, had a major presence at Dreamforce. In September, FinancialForce unveiled its Billing Central solution, calling it the only cloud application that unifies billing, revenue management, and accounting operations on the Salesforce platform, building seamless processes and providing end-to-end visibility across the customer lifecycle.
In the rev rec rat race, FinancialForce says it has a leg up because of its native integration with Salesforce, as well as Billing Central's seamless integration with the FinancialForce ERP Suite. A recent demonstration of Billing Central showed an impressive array of configurable revenue templates and the ability to generate revenue reports across multiple dimensions. With Billing Central, FinancialForce now has partial support for the new standards, and full support comes out in early November, said Sandra Lo, senior director of public relations and analyst relations.
NetSuite: Integrated Ordering, Invoicing, and Rev Rec
Meanwhile, NetSuite, in the final stages of being acquired by Oracle, in May unveiled its SuiteBilling solution, which features unified revenue recognition, intelligent order management, customizable invoices, and other features. SuiteBilling is built into NetSuite's core ERP system and is designed to enable businesses to adopt any business model from product-based, to time- and services-based, to usage- and subscription-based, or any combination of these.
NetSuite has packed a lot of revenue recognition functionality and accounting elements into SuiteBilling, as well as into its flagship OneWorld 16 ERP system, to the point where NetSuite COO Jim McGeever boasted earlier this year that, "OneWorld 16 is the best financial system in the world. It's the crown jewels of NetSuite."
Expect more updates soon, because NetSuite says it is accelerating development on OneWorld.
As the hyperbole increases around revenue recognition, companies must cut through the fog and pay extra attention to how they will comply with the new regulations. With these regulation changes soon to take effect, companies in particular need to review their processes around contract creation, billing, and revenue recognition, and, where appropriate, consider the new solutions.